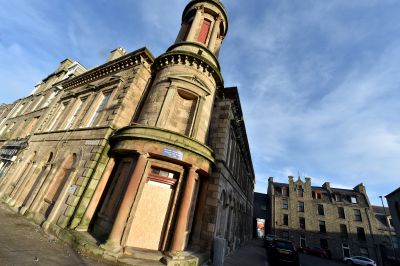 A contractor has been appointed to work on the refurbishment of the new Faithlie Centre.
Renovations started on the the Saltoun Square project two years ago but came to a halt after family-owned construction firm AD Walker collapsed.
The former police station, which is being turned into an enterprise base, is a central part of the Fraserburgh 2021 Regeneration Scheme.
It is hoped the project will support 50 existing and 10 new firms in the town and create up to 20 new jobs.
Following extensive talks between officers and councillors, it has now been confirmed that Morrison Construction will be completing the work.
Local contractors are likely to be appointed to assist with the project.
Work is expected to start again on April 29 and is expected to be finished by the end of October.
Local councillor Andy Kille was involved in the decision to take on a new contractor.
The Banff and Buchan area committee chairman said: "This project means a lot to the people of Fraserburgh and when the area committee met to discuss this we all understood why it was so important to move this forward both quickly and efficiently.
"The project will create a focal point for the community and we all look forward to seeing work get underway in the coming days."
The matter was discussed at meetings in private this week due to financial details relating to the project being discussed.
Chairman of Aberdeenshire Council's business services committee Jim Gifford said: "It is essential that we fulfill our commitment to this historic project and I am pleased that we have a contractor in place who can complete the work this year.
"The impact of this on the public purse has been carefully considered and we are confident that this is the right approach in the circumstances.
"We look forward to watching this come to completion."