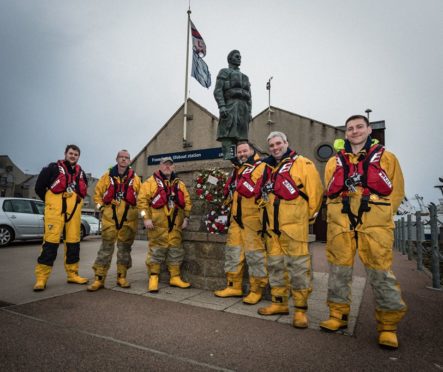 It was a terrible illustration for those who volunteer for lifeboat duty of just how dangerous the job can be.
And now, a simple service will be held next Sunday to commemorate the centenary of the first tragedy to afflict the Fraserburgh RNLI lifeboat crew.
On April 28 1919, coxswain Andrew Noble and second coxswain Andrew Farquhar were killed after the lifeboat Lady Rothes was overcome by swells and capsized while responding to a mayday call.
It was a heartbreaking disaster for the team working at the station which was originally established at the Broch in 1831.
Coxswain Vic Sutherland recalled the story of the incident which claimed the lives of both men 100 years ago.
He said: "They launched to assist HM drifter Eminent as it was going aground at the side of Fraserburgh Bay.
"Lady Rothes was the boat at the time and they launched with 13 crew on board.
"Crossing the bay, she got knocked on her boom end and a lot of the crew fell overboard. She did turn up right and was driven ashore by the swell.
"Both Andrew Noble and Andrew Farquhar were alive at that point.
"Because of the way we used to be alerted, many people knew they were out on a call and there were maybe 100 people there watching, not realising the crew were at that point trying to rescue themselves.
"People figured out what had happened and helped pull the crew to safety and both of the men died shortly after being pulled onto the beach.
"I'm not sure what exactly caused it, but they were the only two crew wearing full oilskins which at the time were big and heavy and could soak you – it probably hadn't made it easy for them to swim."
In addition to being coxswain, Andrew Noble was one of the longest-serving crew members and was harbour master at Fraserburgh for years.
Mr Sutherland and other RNLI members felt it was only right to mark the occasion properly.
He said: "This weekend, we'll have Miriam Kemp, the superintendent at Fishermen's Mission, saying a few words – she drew up our order of service – then the Honourable Kate Nicolson will speak because she's the chair of our fundraising group.
"Her family has had a longstanding connection to the station.
"Then Stuart Fenty from the launch authority and I will say a few words each and wreaths will be laid at the statue.
"Our lifeboat will then slip its moorings and we'll lay a few wreaths in Fraserburgh Bay, taking the one from the statue out to sea to lay it too after about three weeks.
"It the 100th anniversary and the station couldn't let that pass without a small service to those men."
The service will be held at the lifeboat station memorial at 2pm on Sunday.