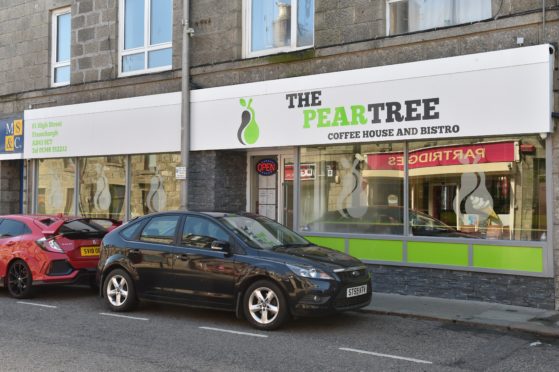 The members of a council committee forced to consider a planning application submitted by one of their colleagues accepted they were taking the "cop out" option of passing the buck.
The Banff and Buchan Area Committee met in its entirety at the Fraserburgh Community and Sports Centre, but their room emptied ahead of discussion on retrospective application for alterations to the shop front of the Peartree Coffee House and Bistro – whose owner is Councillor Hamish Partridge.
The cafe, in Fraserburgh High Street, recently had new and colourful frontage installed but it has emerged Mr Partridge failed to secure planning permission, despite the business being in a conservation area.
Other applicants have had proposals rejected because they were not considered to meet the design principles of that protected status and while Mr Partridge's efforts are said to have improved the building, they fail to meet that criteria.
With Mr Partridge a serving councillor, the committee was required to consider the application, but after half its members walked out – citing an 'interest' – and others expressed conflicting views, Chairman Andy Kille decided he had no option but to defer a decision.
In the report given to the councillors ahead of the meeting, environment officers said they found it "clearly disappointing" that traditional shopfronting had not been installed in accord with the conservation area status.
Planning officer Jim Martin confirmed to councillors the property was within the conservation area, but added that the plans were only appearing at the committee due to Mr Partridge's position as a councillor and that no objections or support letters were submitted.
He recommended the committee award retrospective permission, saying: "It's generally an improvement as it was starting to look a little tired and had non-traditional windows and doors to start with."
All committee members present declared an interest in the application, as all are acquaintances of Mr Partridge, prompting four to leave.
That left Mr Kille, vice-chairman Mike Roy, Doreen Mair, Charles Buchan and Mark Findlater – who all decided their interest was "remote" – to participate in the discussion.
Councillor Buchan expressed concern other applications in the area had been rejected due to the conservation area rules.
He said: "The way forward with the conservation area was to use sympathetic materials in commercial premises and the council would assist with regeneration funding if that was a financial burden.
"Just because the signage is better than what went before does not mean it fits with the conservation scheme – in fact I believe it shows the council has no real interest in conservation and that it's all just notional.
"Then the planning service has taken completely different views on other similar applications like the shutters on the Church of Scotland.
"I would move that this should be refused as others have been."
Councillor Mike Roy felt differently, making a motion to approve the plans as they stood.
But Councillor Mark Findlater felt uncomfortable with their proximity to Mr Partridge and motioned for the decision to go before the Infrastructure Services Committee.
Chairman Andy Kille said: "I'm concerned referring it is a cop out and we're not doing what we're here to do, but four of us have left and there's only five of us left.
"We're in danger of deciding without half of us present, so I second it going to the ISC."
The application will be discussed by that committee at a later date.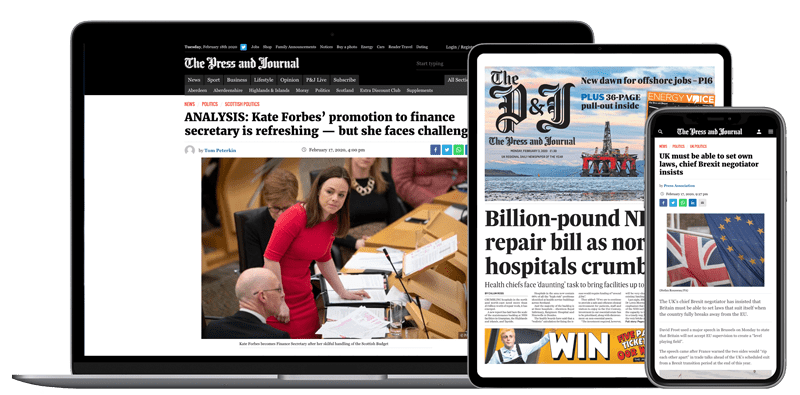 Help support quality local journalism … become a digital subscriber to The Press and Journal
For as little as £5.99 a month you can access all of our content, including Premium articles.
Subscribe