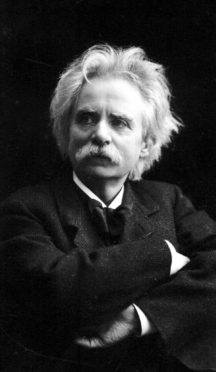 One of the world's greatest composers carried a memento of his north-east roots with him throughout his life, researchers have revealed.
Norwegian composer Edvard Grieg, who lived from 1843 to 1907, is revered across the globe as one of the leading Romantic-era composers.
His music is part of the standard classical repertoire worldwide, and he is perhaps best known for his musical accompaniment to the Henrik Ibsen play Peer Gynt.
Though he is to the Norwegians what Shakespeare is to the British, Grieg is also claimed by the Scots.
And now archivists have discovered that Grieg proudly carried in his pocket the family crest of his great-grandfather Alexander, who emigrated to Norway from Fraserburgh.
The gravestone of Grieg's great-great grandparents on his paternal side, John and Ann Grieg, lies at Rathen Old Kirkyard near Fraserburgh.
Their son, Alexander Grieg, Edvard's great-grandfather, was born in Cairnbulg near Fraserburgh and emigrated to Norway in the mid-1700s.
Edvard Grieg was born in Bergen in 1843.
Though Grieg's grandparents were all born in Norway, he never forgot his Scottish roots.
Honorary director of the Grieg Society of Scotland, Dr Sally Garden, has conducted extensive archival research into the composer's Scottish ancestry.
She said: "It was an Elgin minister, the Reverend William Gray, who by chance met Grieg in the Norwegian mountains, who learned that the composer carried on the end of his watch chain his Scottish family 'crest' featuring a ship sailing on the waves.
"Grieg knew the story of his great-grandfather Alexander's emigration from Fraserburgh, and the crest he proudly wore was actually Alexander's seal – at that time letters were sealed with wax."
She added: "It amazes me how many inquiries we receive from folks with north-east roots who may have family connection with the composer.
"Greig families have been farming around Rathen since at least the late 17th century, so there are many lines of inquiry, many possibilities, and it's a privilege to help with these genealogical queries wherever we can."
In April, the society salvaged John and Ann Grieg's gravestone at Rathen before the inscription was lost, after it had sunk into the ground.
Founded in 2017, the society aims to advance the understanding of the lives and Scottish connections of Grieg and his wife Nina.
Grieg's contemporary and fellow Norwegian great, Henrik Ibsen also claimed Scottish ancestry, though researchers found his connections to be more distant than Grieg's.