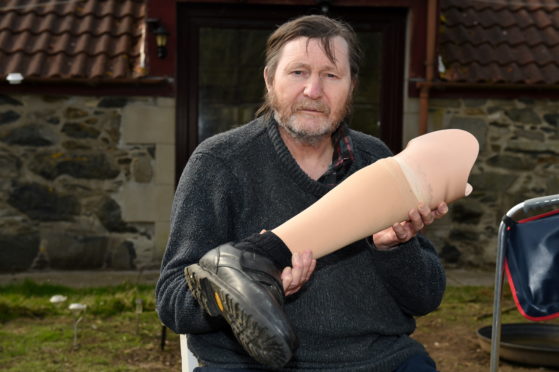 A housebound amputee who lodged a complaint with NHS Grampian about his prosthetic leg is now positive he may one day be able to walk outside to feed his chickens and lambs.
Health chiefs have reviewed the case of north-east pensioner Reginald Bolton who claimed his quality of life was "ruined" by the five ill-fitting prosthetic limbs he was given.
Claiming he has suffered falls, fractures, wounds and been forced to undergo surgery as a result of the replacement limbs, the 72-year-old was frustrated the latest prosthetic has left him unable to walk without a frame and with another wound.
Since having his right leg amputated below the knee in 2013 following a bone infection, Mr Bolton had been provided with five prosthetic legs but claimed none fitted properly.
North-east amputee calls for investigation after repeated problems with prosthetic leg
The retired accountant, who lives near Fraserburgh, described walking with his most recent prosthetic as "walking around on a banana" and was baffled when the NHS told him he will not be given a replacement.
But now, in response to his official complaint, he has new-found hope, which he is partly attributing to the Press and Journal.
Mr Bolton said: "I feel like I wouldn't have been given this much of a response had I not contacted the Press and Journal about the problems I was having.
"Thanks to you, I think there can be progress."
This week Mr Bolton was given a multi-disciplinary meeting with staff including the head of the orthotics department to see what could be done.
As well as that, he was given the chance of a second opinion from a different surgeon which he described as "positive".
Mr Bolton said: "He was a lot more informative and although he didn't promise me a new prosthetic, he gave me a few options.
"Because the leg is so awkward it has disfigured my shoe so he's arranged for someone to refit that and has also recommended manuka honey for my wound so we're soaking the dressings in it.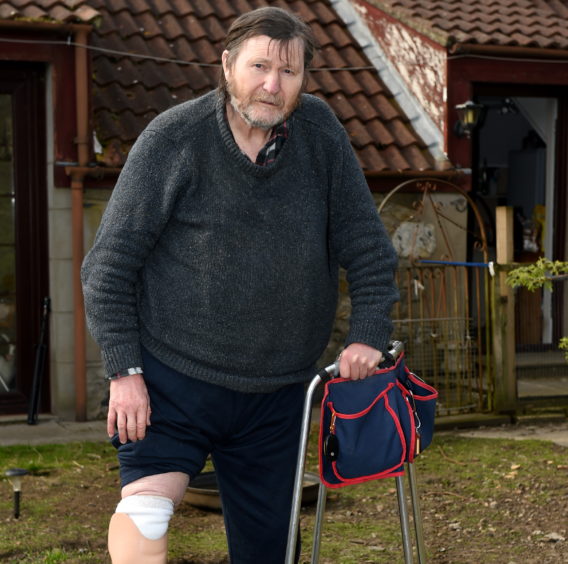 "Hearing about the things he can do has made me hopeful for my prospects.
"If I do get a good leg and can walk without a frame again I will be out feeding by Jubilee Orpington chickens, doves and sheep – I miss getting out to see them."
An NHS Grampian spokeswoman said: "While we cannot comment in detail on Mr Bolton's ongoing care, we are pleased to hear he is feeling positive about his options.
"Speaking generally we respect the right of anyone to raise concerns about their treatment and overall experience with NHS Grampian.
"Our feedback team ensure matters are raised directly with the relevant service and we always aim to respond within the nationally agreed timescales.​"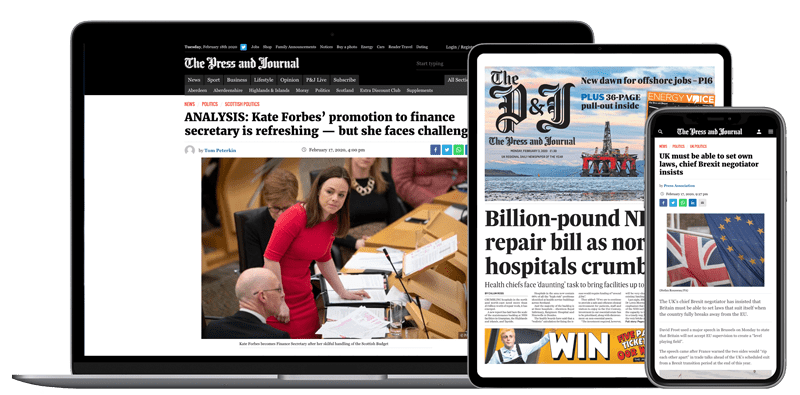 Help support quality local journalism … become a digital subscriber to The Press and Journal
For as little as £5.99 a month you can access all of our content, including Premium articles.
Subscribe