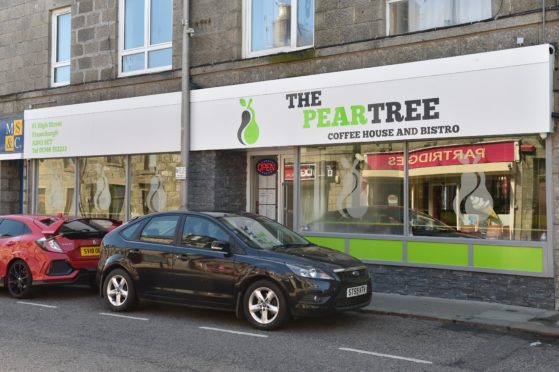 A north-east councillor who flouted the authority's planning rules to improve his own shopfront has been allowed to keep the changes he made.
Troup representative, Hamish Partridge, did not secure the necessary permission before deciding to upgrade the front of his Peartree Coffee House and Bistro in the centre of Fraserburgh.
Local authority planning officials later raised concerns that the new, more modern look conflicted with the traditional nature of the area.
But yesterday, Aberdeenshire Council's infrastructure services committee voted to approve the scheme retroactively.
Last night, Mr Partridge insisted the upgrade was intended to enhance the appearance of the High Street.
He said: "We've tried to improve the look of the High Street in Fraserburgh and we are delighted the application has now gone through.
"This hasn't affected the running of the business at all."
Mr Partridge fitted a white UPVC board above the shop's windows and doors, which features the shop's name in grey and lime green lettering along with an image of a pear.
A council report prepared on the matter said it was "disappointing" the councillor had decided not to opt for a "high-quality traditional shopfront" to fit in with the conservation area.
Members of the Banff and Buchan area committee considered the planning application last month, but referred any decision to the infrastructure services committee due to their close relationship with Mr Partridge.
Councillors yesterday backed the recommendation of a new report which said the scheme should be given the go ahead.
Local authority planning officer, Neil Stewart, ran through a presentation detailing the application and the changes that had been made.
Councillors were shown a series of images of the coffee shop before Mr Partridge pushed ahead with his changes.
Mr Stewart said that, following discussions with building experts, officers concluded that the changes had a "neutral impact" on the town centre.
He said: "It's within the Fraserburgh conservation area and there's no change of use involved.  It is retrospective and the work has been carried out.
"Being in a conservation area, there are clear sensitivities as to how developments like this move forward.
"Our position is that, while this is a slight missed opportunity to get something more traditional, it has a neutral impact on the conservation area. "