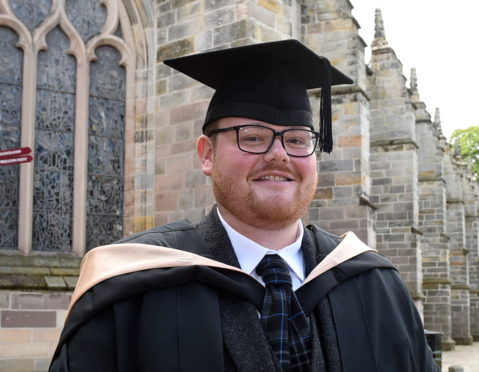 A Fraserburgh piper is looking forward to sharing his passion for music in the classroom after the summer.
Former Fraserburgh Academy and Dyce Music School pupil, Andrew Buchan, was "delighted" yesterday as he graduated with a bachelor in music and education.
The 23-year-old has secured a probationary teaching position at Banff Primary School and meantime is looking forward to jetting off to Tenerife on a "much-needed" holiday today.
A piper in his spare time, the rest of his summer will be taken up with piping championships as part of the Highland Granite Pipes and Drums band.
"I have played the pipes since I was seven and a half," said Mr Buchan. "I remember seeing the pipe bands at a local gala – and from then on I was hooked – that's when I decided I wanted to play the pipes too.
"Since then I have always known I wanted to do something musical. We all have to learn piano and guitar as part of the teacher training – so it's been a great fit for me.
"I'm really looking forward to starting my teaching career."
Mr Buchan was joined by his parents and grandparents as he graduated yesterday.