 Two north-east towns have been handed "substantial" cash injections to bring a dilapidated building back to life and install CCTV equipment.
Groups in Fraserburgh and Turriff have been offered significant sums of money in the second round of grants from the Scottish Government's  multi-million-pound Town Centre Fund.
Holyrood ministers announced the £50 million kitty in December in an effort to drive local economy in smaller communities.
In the latest wave of funding, £40,000 has been allocated to Turriff Business Association for a canopy and CCTV, and £146,500 to the North East Scotland Preservation Trust (NESPT) for the purchase of an empty Fraserburgh building.
The NESPT exists to bring derelict, disused and redundant buildings back to life and secured the money towards purchasing a derelict property and restoring it.
But the group is not yet able to reveal which abandoned building it is poised to overhaul, due to contractual obligations.
In the first round of funding, the NESPT received £476,000 to renovate the former John Trail building in Mid Street on Fraserburgh and covert it into a hotel.
Local councillor, Charles Buchan, said: "I am so happy that we have been awarded another substantial six-figure slice of funding to buy an empty building and do it up.
"This is the most recent of the pieces of good news about our town centre, which will make our Saltoun Square and Broad Street area into the best-looking centre in Aberdeenshire."
Museum of Scottish Lighthouses manager and chairwoman of Discover Fraserburgh, Lynda McGuigan, added: "This is fantastic news – it's really important that we do something with all of the buildings in the town.
"It was looking a little empty with there being too many unused buildings and shops so anything that improves our tourism offering and brightens the place is absolutely welcome.
"I'm delighted and I think getting this money to do up another property shows that Fraserburgh is on the up."
In Turriff, £40,000 has been offered to the local Business Association to pay for CCTV and a canopy to cover the Coo Corner area – but the group is yet to decide if it will accept the grant.
Local councillor Alastair Forsyth said: "I'm delighted the funding application for this was accepted and awarded in full.
"If accepted, this will set the ball rolling for these town centre upgrades to proceed."
Aberdeenshire Council accepted £250,000 to replace the boardwalk at Stonehaven and the Portlethen Business Association has been offered £35,100 for improvement to the business area of The Green.
Peter Argyle, chairman of the committee who allocated the funds, said: "Funds have been awarded based upon impact, sustainability and deliverability within the short timescales."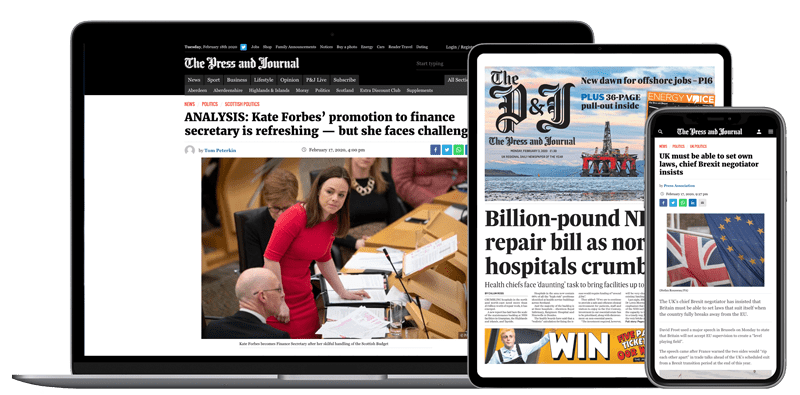 Help support quality local journalism … become a digital subscriber to The Press and Journal
For as little as £5.99 a month you can access all of our content, including Premium articles.
Subscribe