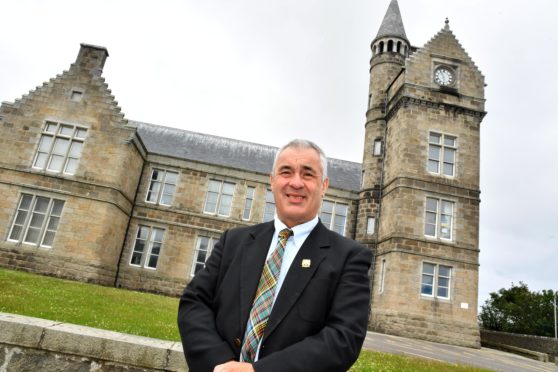 Aberdeenshire Council has been urged to make a new super-primary a priority after it emerged more than £300,000 of repairs have been carried out at two schools – but will need redone.
More than 1,000 repairs have been carried out at Fraserburgh North Primary and St Andrews School, but a report identifies that some areas will need "continuous repair".
The figures have prompted renewed calls for a new super-primary to be added to the council's capital plan.
The schools would be merged, potentially within the grounds of Fraserburgh Academy.
However, the council currently has no money set aside for a new school in the town.
Since 2009/10 there have been £227,445 repairs carried out at St Andrews Primary on Charlotte Street, and £88,777 of work done to Fraserburgh North School on Finlayson Street – together amounting to 1,016 jobs.
According to the most recent building reports for the authority – published in May 2011 – most elements of the schools received a B (satisfactory) ranking.
But several areas were given the lowest rankings of C, meaning it will only function with "continuous repair", or D – meaning its life has expired or there is a risk of failure.
For Fraserburgh North the roof insulation, mechanical gas storage and distribution, fixed firefighting systems and security systems were ranked D.
St Andrews received Ds for its firefighting and security systems.
---
>> Keep up to date with the latest news with The P&J newsletter
---
Some of the issues have been addressed by repairs over the last decade, but now councillors want to push for a super-primary to better the learning environment of youngsters.
Councillor Doreen Mair wants a "state-of-the art" school for central Fraserburgh pupils although admitted that previous consultations with parents had failed to come up with a "definitive answer".
She said: "There is a long process which must be gone through to get projects onto the capital plan, some of these stages have been reached with this project, so progress is being made behind the scenes.
"The capital plan has many calls on it and is a limited money pot.
"However,  I will be working to the best of my ability to get a new school for the town and its children in the not too distant future, it will be one of my top priorities."
Opposition councillors Brian Topping and Charles Buchan also want progress.
Mr Topping said: "I'm certainly pushing for this to be a priority and although we've got top class teaching, the pupils are being let down by the outdated facilities and lack of outdoor sports areas.
"The last thing we want to be doing is spending good money after bad – splashing out more money on constant repairs is the only outcome if we put this super-school off."
Mr Buchan added: "I would urge Fraserburgh to get together to support the proposal of a new primary in the academy grounds, so another generation of our children do not lose out."
Education director Laurence Findlay said "extensive engagement" has been carried out.
He added: "There are currently no commitments in the council's capital plan for a new school in the town, but any future projects will be prioritised along with other emerging capital requirements we may have."