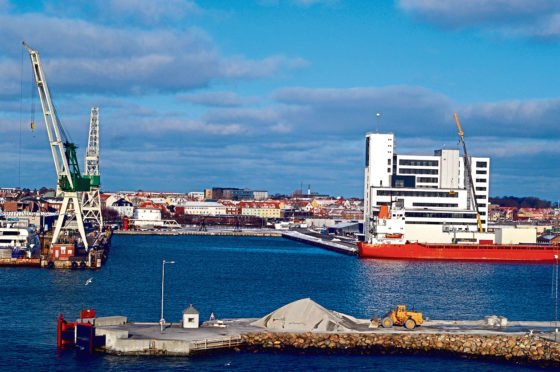 Police in Denmark are investigating a bar brawl in which a Fraserburgh man was slashed with a broken bottle.
The Scot is thought to be working abroad as a sailor and was in the north-east harbour town of Frederikshavn when he was caught up in the disturbance.
Local reports suggest the man was among a group of Scots when they became caught up in an early morning altercation.
He is understood to have sustained a serious but not threatening arm injury in the incident which is being probed by local officers.
Several police cars were called to the club ToTrinOp – known in English as Two Step Up – at around 2.30am on Sunday, according to local reports.
A group of Scots sailors are said to have become involved in "some kind of disagreement" with a second group within the club.
It was during the altercation that the Fraserburgh man – who has not been named – was struck on the arm with a weapon, reportedly a broken beer bottle.
Danish officers have been appealing locally for people who witnessed the fight to come forward.
They have yet to identify the Scot's attacker.
Local newspaper Kanal Frederikshavn said that the injured man was part of a group caught up in a "brawl" at club ToTrinOp.
It's report states the Scots sailors have been staying in Frederikshavn for some time as they are working locally on a ship.
Police in Frederikshavn said they hoped to speak further with the injured man but in the meantime have appealed for those with information to come forward.
A spokesman from the North Jutland Police Patrol Centre in Frederikshavn confirmed there was an incident in the town at 2.26am on Sunday morning.
He said: "Several individuals had some kind of disagreement during which a man from Scotland received a cut to his arm from an unknown object.
"We have, at this point, no information about the perpetrators and due to an ongoing investigation we cannot elaborate any further.
"However, we strongly urge any witnesses to contact us."