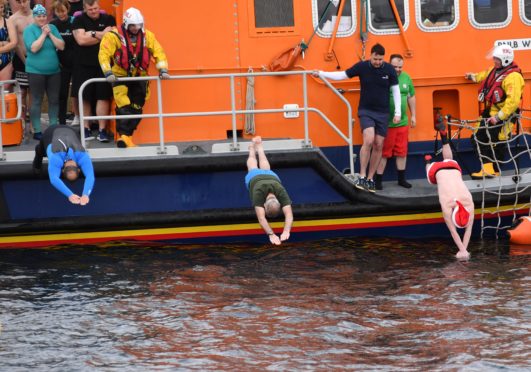 A record number of hardy people leapt from Fraserburgh lifeboat to braved the four degree North Sea in aid of the RNLI today.
Smashing their record of 36 swimmers, 52 keen fundraisers plunged into the sea to cheers from friends and family on the quayside.
In the days running up to the Fraserburgh RNLI's Boxing Day swim, gales were threatening the event but, after arriving early to assess the weather, it was decided that it was just calm enough to proceed.
Coxswain Vic Sutherland was delighted at the number of swimmers and supporters.
He said: "We had 52 swimmers this year which is the most we've ever had – a few of them were doing it for their second or third time.
"The youngest was around 12-years-old and the eldest, we think, was 60-ish, and then we had everything in between.
"We can't thank everyone enough for turning up as the weather was less than ideal but thankfully the gales held off long enough for everyone to do their lap of the harbour."
The total raised for the life-saving charity will be announced in late January once all sponsor money is collected.
Mr Sutherland added: "From the collection buckets alone today we raised a whopping £960 which is an incredible start.
"Through previous swims we have raised around £76,000 and it would be amazing to hit the £80,000 mark, but we won't know for a few weeks yet."