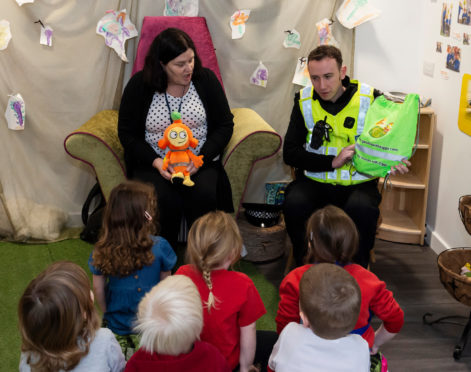 An initiative encouraging Fraserburgh parents to "park smart" when driving their child to school will be introduced next week.
The joint scheme from Aberdeenshire Council and Police Scotland is designed to keep schoolchildren safe by encouraging drivers to park considerately during the drop-off and collections.
Park Smart will begin in St Andrews Primary School next week with assemblies, in-class workshops, information for families and street patrols during key times.
A number of concerns had previously been raised about road traffic issues around the school and it is hoped pupils will be safer as a consequence.
The initiative was tested in Westhill for a week before being rolled out.
Ewan Wallace, Aberdeenshire Council's head of transportation, was among those who thought that the week had been "very successful".
He said: "The safety of everyone in our communities is of paramount importance and, through this excellent example of partnership working between ourselves and Police Scotland, we can deliver the roads safety message in our schools and the wider community to raise awareness and ensure our children remain safe at all times."
Pupils will also get the chance to enter a road safety banner competition with the winning design hung outside the school to promote long-term behavioural change.
Inspector Jennifer Cordiner said: "We are delighted to be working alongside our partners at Aberdeenshire Council to improve road safety.
"We have listened to, and acted upon, the concerns of parents and this is an excellent example of partnership working and how it can help to keep people safe."