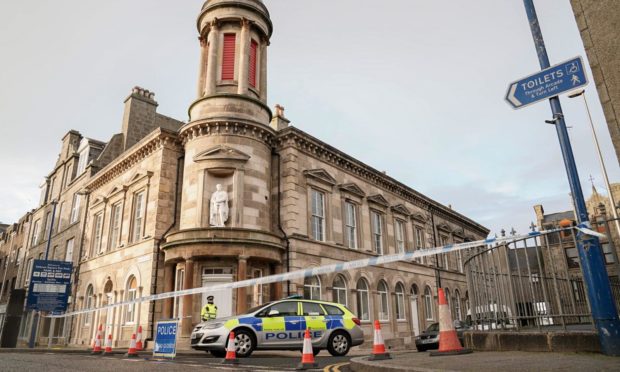 Streets are cordoned-off and homes understood to have been evacuated with a bomb scare having brought a north-east port to a standstill.
Parts of Fraserburgh town centre and harbour have been locked down since emergency services descended upon the area earlier this evening.
The junction of Kirk Brae and High Street is among those blocked as police investigate reports of a suspicious and potentially dangerous device.
Police confirm investigation launched following reports of explosive device in north-east town
Officers set up a number of road blocks on several other streets as their inquiries began and they soon sought assistance from ordnance experts.
A unit from the British Army's Royal Logistic Corps' bomb squad was dispatched from Edinburgh to lead the investigations.
They arrived on scene in late evening and swiftly joined the police in their efforts.
Their distinctive white van can be seen parked on Fraserburgh's otherwise closed-off Shore Street.
Locals have taken to social media to report relatives and friends have been evacuated and have been told by police it was a precautionary measure as they were investigating "something that might explode".
It is understood officers have requested numerous homes be emptied while they work.
Police have been unwilling to comment on the exact nature of the reports they received, nor the focus of their efforts.
Those efforts do, however, appear to be concentrated on the town's harbour area.