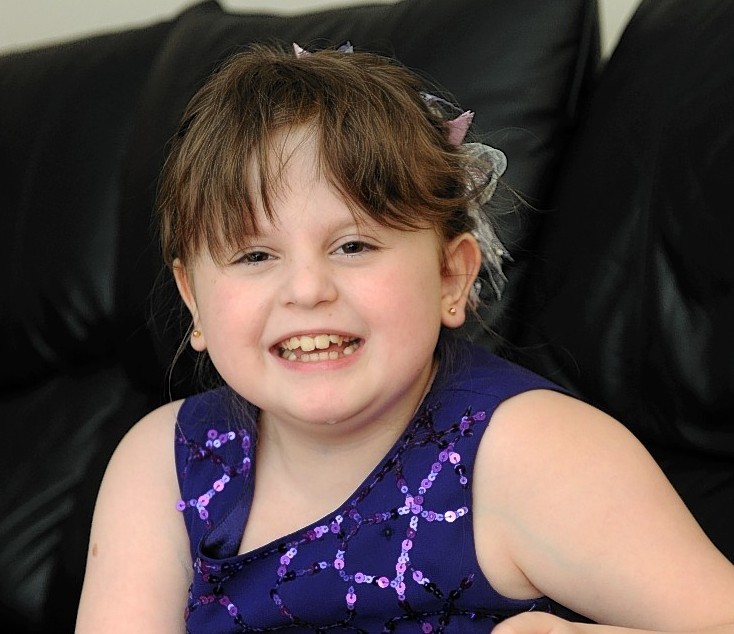 A brave little girl's dream of walking is on the brink of coming true as she prepares for life-changing surgery in the USA following a massive fundraising campaign.
Isla McNab from Fraserburgh will tomorrow undergo a procedure to cut faulty nerves in her spine, which surgeons hope will allow her to walk unaided.
The operation at the St Louis Children's Hospital in Missouri is due to go ahead after relatives of the nine-year-old, who has cerebral palsy, launched a public appeal to pay for the treatment.
More than £80,000 has been raised towards the cost of the selective dorsal rhizotomy and subsequent physiotherapy since the Isla's Dream campaign opened last January.
Last night, as his granddaughter prepared to be wheeled into an operating theatre 4,000 miles away, Ronnie McNab said his family was overwhelmed by the support from the local community.
Mr McNab said: "We can't start to thank the public enough. This started off as Isla's Dream, and now it looks like the dream is going to come true.
"We're all very hopeful and wishing for the best. They've flown out to St Louis now."
Isla, a pupil at St Andrews Primary in Fraserburgh, had a tough start to life and weighed just 1lb 10oz when she was born 10 weeks early in 2005.
Four weeks later, she developed necrotising enterocolitis and surgeons were forced to remove part of her bowel.
Parents Robert and Jane McNab feared their daughter would be left using a wheelchair for the rest of her life, until they heard about the work of neurosurgeon Dr Tae S Park in St Louis.
Mr McNab continued: "Obviously the whole family is over the moon. According to reports, Dr Park has a 100% success rate. We've got our fingers crossed that everything goes okay from here.
"What this operation does is relieve the stress on the legs so they're more pliable. At the moment her legs are rigid and she struggles to walk at all.
"We won't really know if it's been a success until she's done the physio, that'll be three or four weeks from now."
And although Mr McNab is under no illusions about the complexity of the procedure facing his granddaughter, the 76-year-old has just one thing on his mind.
"Hopefully when she comes home from America, she'll walk into the house," he said.
The McNab family launched their Isla's Dream fundraising campaign last January and expect it would take between three and four years to hit their goal of £65,000.
Instead the people of Fraserburgh and the surrounding area pulled together to not only reach but smash the McNab's target in a remarkable seven months.
Donations from family members, friends and strangers were bolstered by fundraising events as varied as a horse show, a supermarket bag pack, a charity ball and a sponsored leg wax at Fraserburgh's Cheers pub.
Mr McNab, chairman of the town's community council, added: "We're over the moon with the community. Everyone in Fraserburgh and the surrounding area has been behind us 100%.
"The whole community deserves thanks for what they've done for us."
Last night Fraserburgh councillor Charles Buchan, who has worked closely with Mr McNab, sent his best wishes to Isla and her family.
Councillor Buchan said: "I realise how much work the family have done over quite a long time. I've seen Ronnie in action doing fundraising and he really puts his heart and soul into it.
"I really wish Isla well and I just hope it's a success. It just shows you how good-hearted the people of Fraserburgh are."
Isla's five-hour operation will take place tomorrow and will be followed by a month of intense physiotherapy.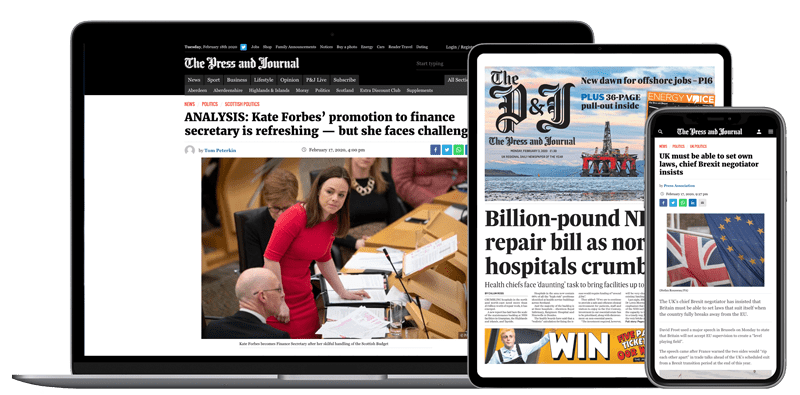 Help support quality local journalism … become a digital subscriber to The Press and Journal
For as little as £5.99 a month you can access all of our content, including Premium articles.
Subscribe