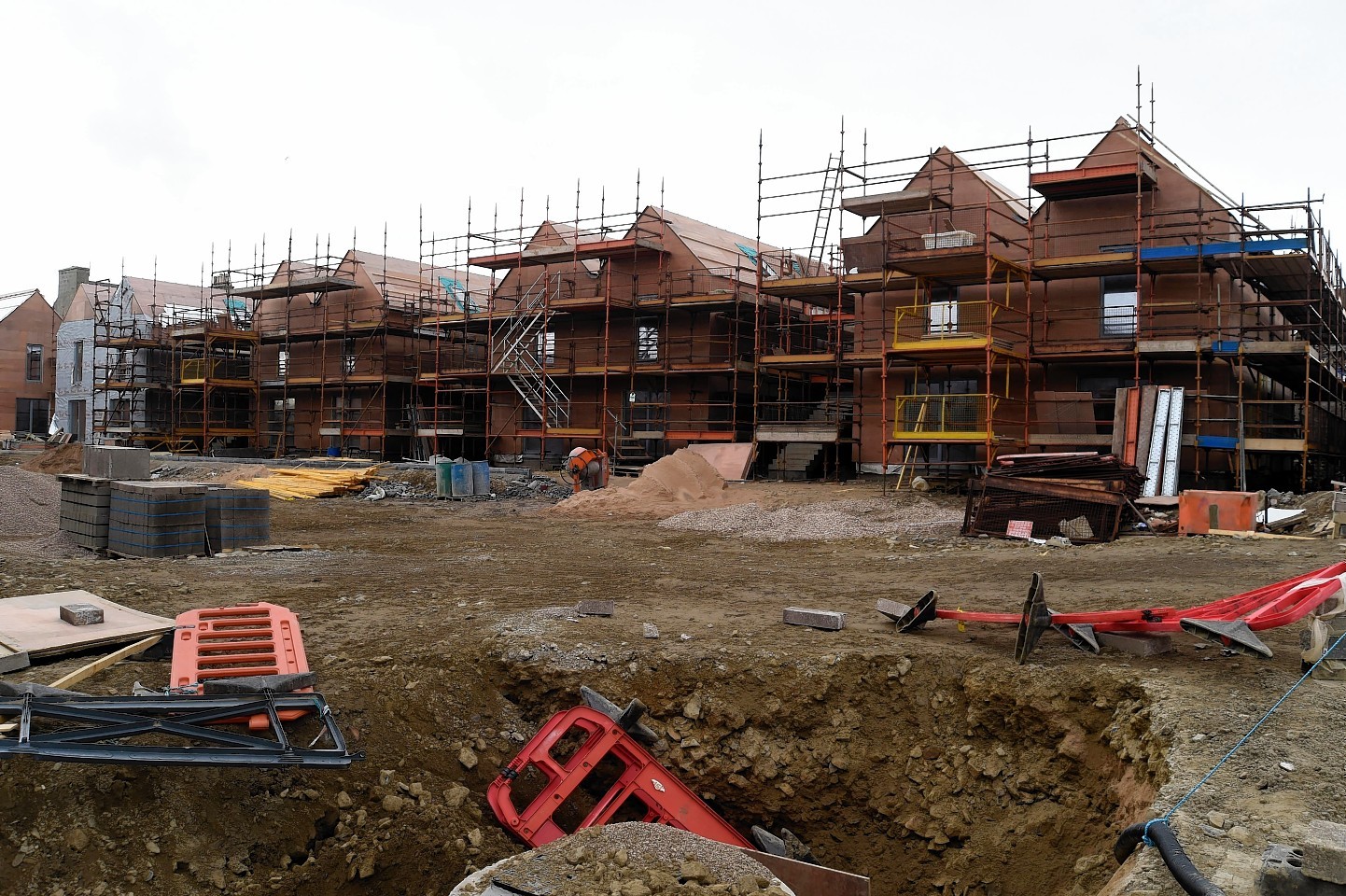 Plans to provide scores of new affordable homes were hanging in the balance last night after workers downed tools and walked off building sites following the crash of a construction firm.
A showpiece development in Fraserburgh has been left half-finished because of the crash of Dundee-based Muirfield Contracts.
And local councillors now fear the properties could become a haunt for youngsters and targeted by vandals.
The 30-house scheme in Fraserburgh's Barrasgate Road area and a 24-home project in Inverurie are both affected by the Muirfield collapse.
The developments are part of a wider local authority drive to provide an extra 169 affordable properties across the region.
Last night, Fraserburgh and District councillors called for urgent action to ensure the homes are completed.
Ian Tait said: "Our first priority has to be that the site is kept secure so that children cannot get in and endanger themselves. Building sites are dangerous places.
"The longer that site lies without being worked on the worse the situation gets.
"It has to be safeguarded and the council must be making sure that it works with the administrator to get the work started as quickly as possible. I just hope there is a builder available who can tackle the work.
"These are homes that could have given 30 families a decent place to live."
Fellow councillor Charles Buchan added: "These were going to be marvellous houses, so it's very disappointing.
"It's more likely kids will get in there the longer it lies there, so I'll certainly be making sure that the site is secure and watched.
"It's not just the damage they could do, but they could well expose themselves to serious risk."
The houses were approved as part of a project to develop low energy, affordable homes in the town.
It was supported by a Scottish Government grant of £1.4million.
Banff and Buchan MP Eilidh Whiteford, said the sudden halt to the development was "disappointing".
"I would hope that Aberdeenshire Council and the Scottish Government can look to find a way to continue with the construction project for these much-needed homes by coming to an arrangement with the subcontractors," she said.
Harry Frew, the regional secretary for the Union of Construction, Allied Trades and Technicians (Ucatt) in Scotland, described the downfall of the Dundee-based firm as a "bitter blow".
He added that the union would be doing everything it could to support affected employees.
Muirfield's 270-strong workforce were understood to have been sent home on "gardening" leave on Wednesday, with reports emerging that employees were seen leaving their offices carrying boxes containing personal belongings.
But a spokesman for Aberdeenshire Council said the authority would be making contact with Muirfield's administrators to "ensure" its projects can be progressed.
"If Muirfield do not intend to continue trading and complete their ongoing developments, we will make alternative arrangements for those being carried out for the council to ensure construction work is fully completed and housing developments delivered," he said.
"Obviously this may mean a change to projected timescales but we will do what we can to keep delays to a minimum."
As well as the housing developments, Muirfield had also been contracted to carry out kitchen, bathroom, door and window upgrades on existing council properties.