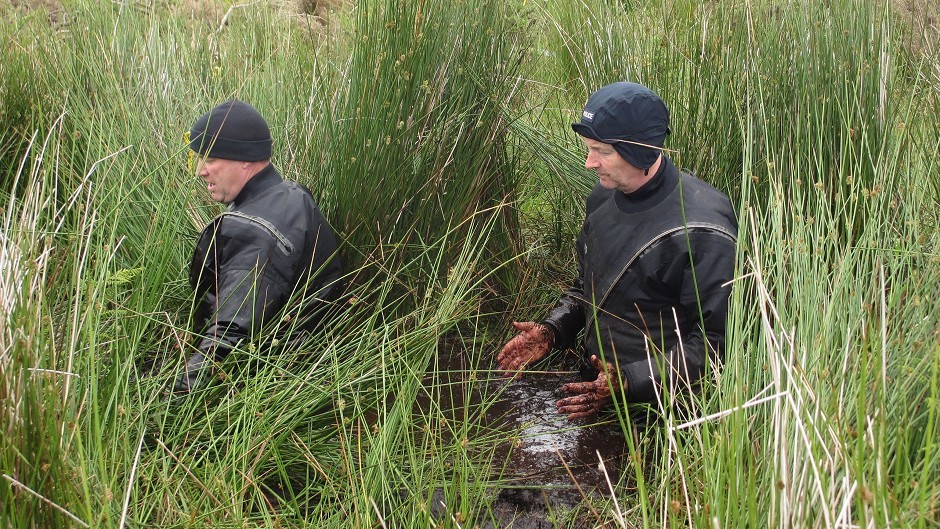 Police investigating the disappearance of Shaun Ritchie have drafted in two of the UK's leading forensic scientists to help search for his body.
Specialists will use ground-penetrating radar in the area where the 20-year-old was reported to have gone missing following a Halloween night out last year.
The latest development follows months of efforts by helicopters, dogs, divers and volunteers, which has added up to the largest missing person search in the history of Police Scotland.
Officers were joined by Professor Lorna Dawson, Head of Forensic Soil Science at the James Hutton Institute in Aberdeen and Dr Alastair Ruffell, a forensic geoscientist in the School of Geography, Archaeology and Palaeoecology at Queen's University, Belfast, last week.
The pair used a number of different techniques at the scene, including ground-penetrating radar and electro magnets dragged by a small boat, in their quest to find the missing Fraserburgh man.
Although no significant new leads on Mr Ritchie's disappearance were picked up during the soil analysis, the findings of Dr Ruffell and Professor Dawson have given the investigating team fresh impetus.
Last night the senior officer in charge of the inquiry Detective Chief Inspector Matt Mackay, spoke candidly about his reasons for drafting in experts.
DCI Mackay – who took over the case in June – said: "Missing persons inquiries run the length and breadth of the country and there's a lot of good practice that comes out of various inquiries that can be shared between police forces and agencies.
"Given that the traditional search methods we have used haven't been successful so far, and given the terrain we face, for me it was a prudent move to get Professor Dawson and Dr Ruffell in."
He said the treacherous ground surrounding the north-east farm house where Mr Ritchie was last seen had changed dramatically in the summer weather.
"You wouldn't think it today, but water levels have receded," he said.
"What was once fast flowing water is now little more than a burn. Ditches are empty, standing water in peat bogs and park land is now at a level where you can get amongst it."
DCI Mackay said the presence of the two forensic scientists gave him "the highest assurance possible that there is nobody or nothing in there before we move on".
"The specialists haven't thrown up anything new that has taken us off in a completely different direction. But it has given us assurance and I am now satisfied that Shaun's remains aren't in certain areas."
Police remain confident in the theory posed in the weeks following Mr Ritchie's disappearance that he was suffering from severe hypothermia and removed some of his own clothes while disorientated.
The investigating team believe his actions in potentially trying to seek shelter from the cold winter night may have resulted in his body being hidden.
The focus of the search, which has spanned a total of more than eight square miles, is still in the small area where Mr Ritchie's clothes were recovered in the first week of the search.
DCI Mackay stressed in the strongest possible terms that there has never been any evidence of criminality.
He added: "We're trying to bring some closure to this and it remains very, very firmly a missing persons inquiry."
Professor Dawson explained how her expertise in the field of soil science could support DCI Mackay's team.
She said: "Material from the natural environment can transfer to objects or people through contact. For example, soil, vegetation and water can transfer onto clothing and footwear while a person is walking in an outdoor environment.
"We have examined clothes and footwear found by Police Scotland, to help police piece together which locations Shaun Ritchie's clothes and footwear had likely come into contact with."