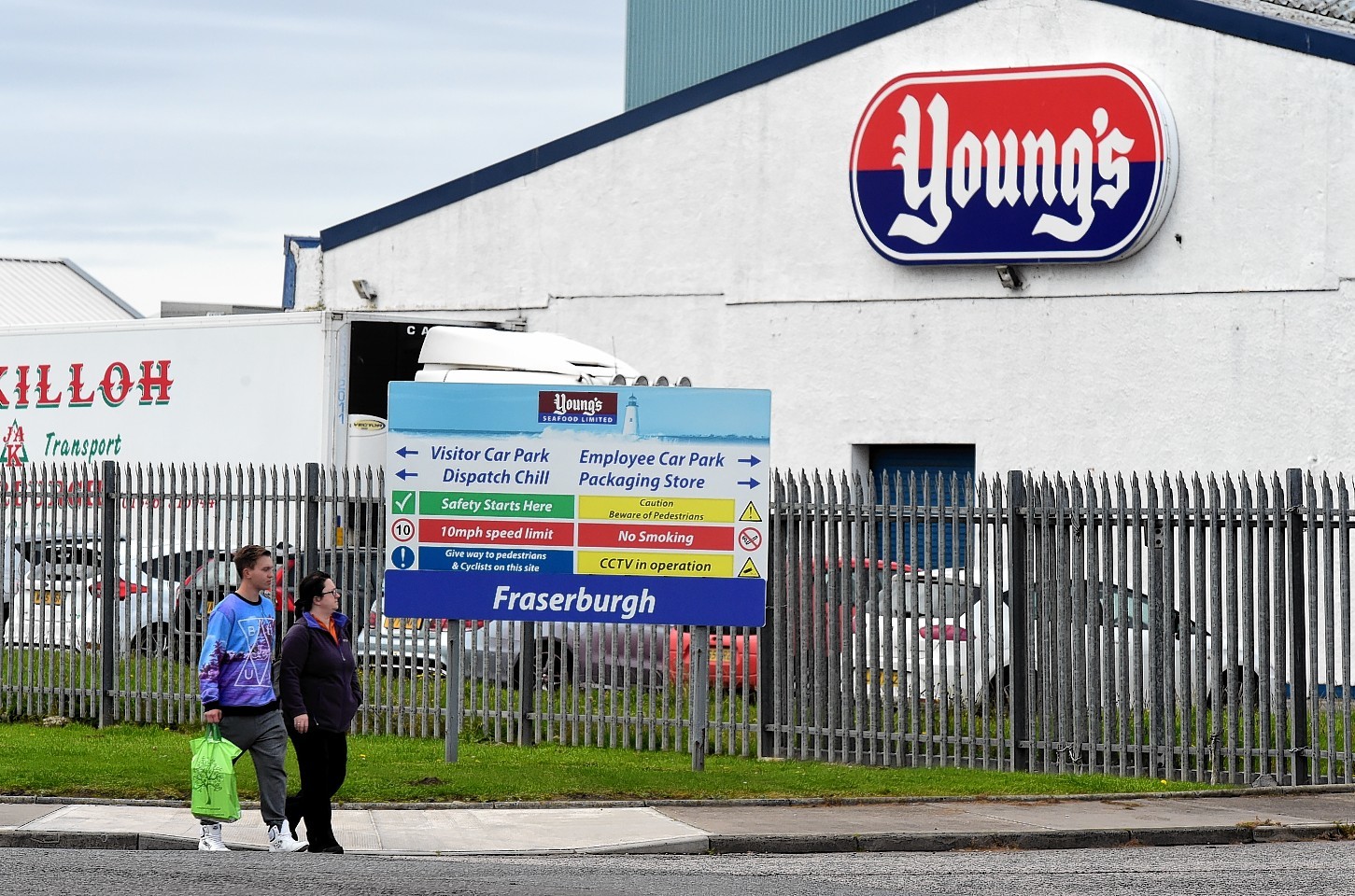 A north-east fish factory has been spared the axe – but hundreds of workers will lose their jobs as part of the plan to keep it open.
Industry giant Young's Seafoods announced yesterday that its Watermill Road plant in Fraserburgh will remain operational but with a massively slimmed-down staff.
About 250 employees will be kept on to focus on making hot and cold smoked ready-to-eat products.
But the rest of the firm's 900-strong workforce in the won are facing redundancy.
The futures of the Fraserburgh factory and one at Grantown on Speyside were thrown into doubt earlier this year when Young's lost a £100million salmon contract with Sainsbury's.
The Grimsby-based firm revealed it was considering closing both plants as part of a restructuring.
But yesterday bosses announced they had agreed an alternative plan which will save the Fraserburgh plant and the traditional smoking facility in the Highlands.
Young's Seafood chief executive, Pete Ward, said the decision to slash the workforce "had not been taken lightly".
He said: "Following extensive review, consultation with employee representatives and engagement with all interested stakeholders, we are now confirming our company's decision to keep open our Fraserburgh Watermill Road and Grantown-on-Spey facilities.
"We recognise the importance of the Fraserburgh and Spey Valley factories to their local communities and we are moving forward with a plan that will retain jobs at both of the sites."
The Scottish Government has launched a taskforce to help workers who will lose their jobs.
It is being chaired by Business Minister Fergus Ewing, and will include bosses from Young's, union representatives, local politicians and Aberdeenshire Council.
It is due to hold an emergency summit in Fraserburgh on October 2.
Mr Ewing said: "This is deeply disappointing, but not unexpected, news.
"Since Young's first announced its plans, the Scottish Government and its agencies have made every effort to safeguard jobs at its two sites in Fraserburgh and Grantown-on-Spey."
Mr Ewing, who held a series of discussions with Young's managers over the summer, welcomed the decision not to close the Watermill Road site.
But he said the impact of hundreds of redundancies on workers and the wider Fraserburgh economy would be "significant and far-reaching".
He added: "The taskforce will look at how the work at Fraserburgh can be expanded, in collaboration with the company, and will provide every possible support to those workers who need our help to find alternative employment."
North-east politicians Eilidh Whiteford MP and Stewart Stevenson MSP will attend next week's summit.
Mr Stevenson said: "Although this represents a challenge for Fraserburgh, it also represents a better outcome than was once feared."
Campaigners have repeatedly stressed that if the Watermill Road factory could be kept open, new contracts could be won in the future.
Mr Stevenson added: "The factory in Fraserburgh will remain well placed to exploit opportunities as they arise."
But local Independent councillor Ian Tait was less optimistic.
He said: "I think it's a disgrace, and I don't think the Scottish Government has done enough.
"Grimsby is in an enterprise zone – administered by the UK Government – and they have been offered more than £1million to assist the set-up there.
"I've said from the very start that I would like to know what the Scottish Government is doing to produce similar if not better inducements to keep Young's in Fraserburgh.
"They should have been in there fighting their hardest – everything they can – in order to keep Young's here."
Mr Tait added that the impact on the families of those who will lose their jobs will be "horrific" and will also hit the local economy hard.
Speaking outside the plant last night, factory charge hand Andzejs Lukasenko said: "I'm pleased, but I'm not sure about the people who will lose their jobs.
"I came here in 2008, and have worked in the factory for about six years.
"If I lose my job here I will have to find somewhere else to go, but it will be hard to find something else in Fraserburgh – it's a small place."