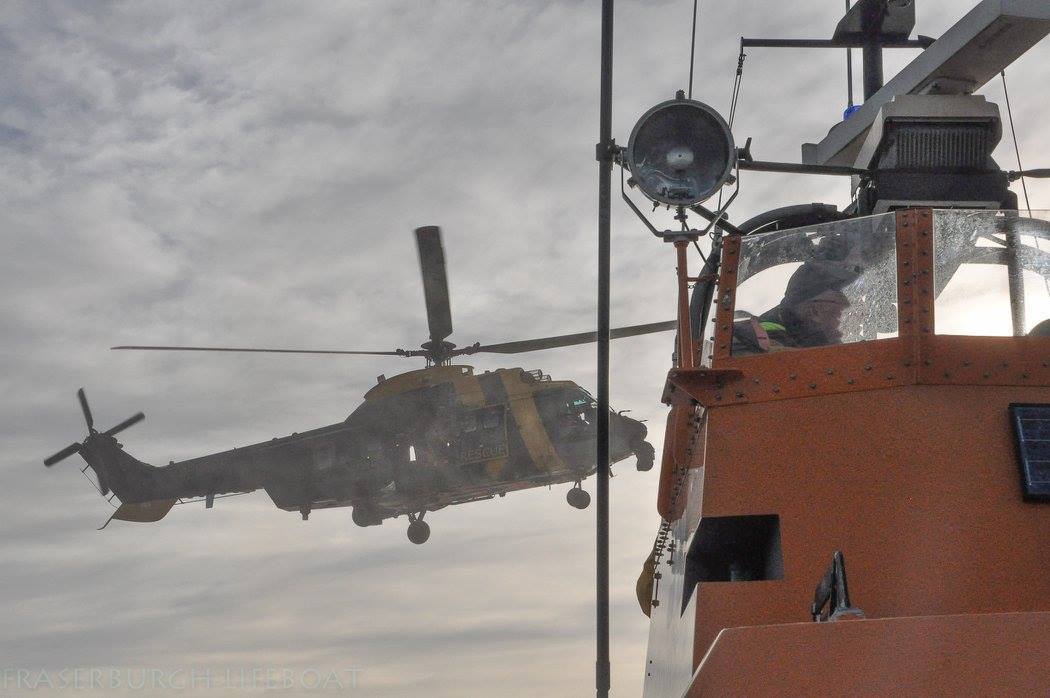 These dramatic images show a daring aerial rescue which took place off the north-east coast.
The joint rescue operation between the coastguard and Fraserburgh's volunteer lifeboat crew took more than an hour, and included a remarkable 12 winch lifts.
But no one was injured during Sunday's helicopter mission, which was in fact part of the crews' regular training programme.
Last night Fraserburgh lifeboat coxswain Victor Sutherland explained the operation.
"Ideally we want to get a couple of exercises every year but it's not always achievable due to operational requirements –
obviously we're on call and the chopper's on call," he said.
"It's good for the two organisations to work hand-in-hand. We're never sure when we'll need to medevac from the lifeboat to the helicopter.
"Whether it's causalities or if one of the crew were injured aboard the lifeboat – our training helps us ensure the transfers are done as safely as possible."
During the joint exercise – which took place four miles from the north-east port – the Fraserburgh lifeboat kept a steady course and speed while Bond One hovered overhead to begin the winch operations.
Mr Sutherland said: "It can be a very dangerous position for both the vessel and the chopper crew – the swell can lift the lifeboat up.
"Then there's the guy at the end of the wire who's relying on his winch operator communicating with the pilot, because once the chopper's above us the pilot is flying blind. It's all down to training."
A total of nine volunteer crew members took part in the hour-long operation. A crucial part of the exercise was the use of the "high line" – a rope which is passed from the helicopter to the lifeboat.
Mr Sutherland said it can save valuable seconds during a life-or-death rescue mission by keeping the lifeboat and helicopter connected, allowing the crew to literally pull the winch man onto their deck.
He added: "Our crew took it in turns to have a go at the high line, operating it and following instructions from the chopper crew on the safest way to get the lifts done."