The convoy of unmarked police cars and vans approach the property on the quiet Aberdeenshire street, and suddenly the bust unfolds at breakneck speed.
Two officers run for the back door of the ground floor Fraserburgh flat whilst four others donning bulletproof vests and plain clothes take the front.
A face appears at the living room window as the words "police, open up" are screamed and the thumping on the door commences as the red door ram – nicknamed "the enforcer" – is brought out.
In the end, it takes several hits with the battering ram before this stubborn door yields and the officers gain entry.
The drug search warrant is being executed at the property of a known violent offender suspected of housing an alleged drug dealer from Liverpool.
Prior to the operation, the officers were briefed on what they could expect to face after forcing entry into the property.
They were warned of the possibility of weapons and were told their target may put up a fight as they tried to find crack cocaine and heroin.
Those within this particular household do not put up a fight but immediately the officers stumble across the hallmarks of drug use – tin foil and needles.
Soon a large quantity of drugs and money are found scattered conspicuously across the flat.
The operation ends with two men and a woman in custody.
"You've got to prepare for any outcome," said Sergeant Sam Buchan, as he heralded the operation a success.
"It is just not an area of policing where you can let your guard slip.
"You have got to be prepared for anything when you go through a door. There are so many risks as you can imagine, particularly when we deal with offenders – weapons, dogs, whatever the case may be."
This operation is a combination of Operation Sandside – Aberdeenshire and Moray Division's violence reduction initiative – and the work of the organised crime investigation team.
This was just one of several warrants acted upon in Fraserburgh yesterday – several of them on known violent offenders as part of the rejuvenated violence crackdown.
Sandside was re-launched last week with a view to quelling crime before it takes place.
This operation had formed part of the "enforcement side of dealing with violence" with the force taking action against known violent offenders with warrants looming over them.\
Srg Buchan, who is in charge of Aberdeenshire and Moray's north branch of the violence reduction unit, believes there is a direct link between the organised crime gangs dealing drugs in the regions and violence across its communities.
He said: "With organised crime groups dealing with drugs, there is an absolute unarguable link to violence and crimes of violence there. Part of what we do here is to keep on top of that as much as we possibly can."
Detective Constable Scott McKay, of the organised crime investigation unit, added: "A lot of this violence revolves around debts, if people fail to meet debts or they are a sub-dealer and the police has taken away all their drugs they will then be indebted to the crime group for that.
"When it comes to crimes of violence it can raise serious threats of harm, serious threats to members of their family, all the way up to serious assaults and worse."
He said a huge amount of work was spent "gathering intelligence" on individuals prior to acting on a warrant.
He added: "We've had doors that we go to and we're expecting five people in and you get nobody or doors you go through where you get one person in and you get six.
"You could be faced with heaps of drugs on the table, knives sitting about, or you could be faced with an empty house and nothing.
"We'll search everywhere, lofts attics under floors, garden sheds, we've come across stuff that's buried.
"We'll do specialist research on individuals or any others who we suspect are staying there. Quite often just now there is individuals from Sheffield, Liverpool, London, Glasgow, all kinds of organised crime groups."
Police leading yesterday's raid said they hoped Operation Sandside would make a difference to communities in Aberdeenshire and Moray.
The crackdown on violence and assaults will include high visibility, zero tolerance patrols, particularly at the weekends in and around licensed premises.
Srg Buchan said: "You'll have seen at the weekend high visibility units out there at pubs and clubs making sure we're speaking to people in terms of door stewards, licensees, that sort of people, that forms part of our preventative strategy.
"We try to do as much preventative work as we possibly can but also a lot of retrospective detection as well."
Constable Debbie Mitchell, of the regional violence reduction unit, said: "Saturday nights obviously the peak time when a lot of the violence occurs whether it be inside licensed premises or outside.
"Violence, whether it comes from drugs or alcohol, is all related in one way or another. We just had a quiet weekend and we are hoping that is because there was a lot more officers out and on the streets."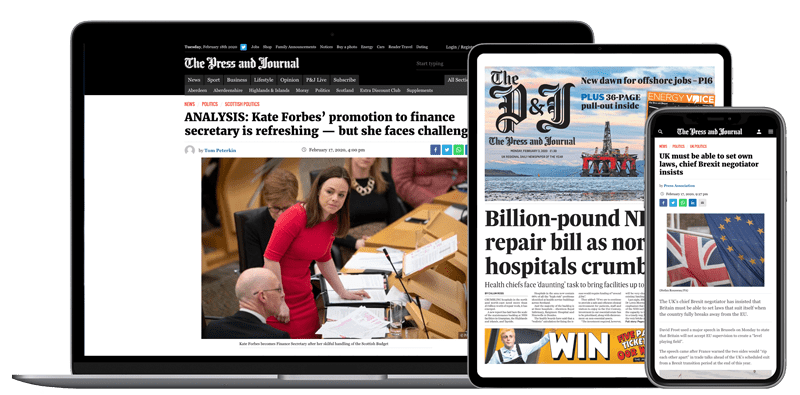 Help support quality local journalism … become a digital subscriber to The Press and Journal
For as little as £5.99 a month you can access all of our content, including Premium articles.
Subscribe