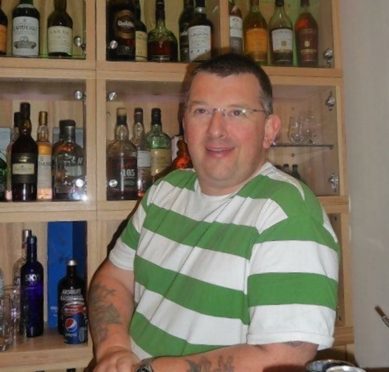 Football supporters from both sides of the Old Firm divide gathered in Fraserburgh yesterday to pay tribute to a north-east offshore worker who succumbed to cancer.
Celtic fan James Sutherland died in March after his battle with the disease.
But his memory lived on when friends and family met at the port's Kessock Park to pay tribute to his life – and deep-rooted love of football – with a friendly match against aficionados of rivals Rangers.
Money raised in the exhibition for the 51-year-old is being donated to the local lifeboat which the Sutherland family has been involved with for the past three generations.
Norman Reid, who organised the game between both sets of supporters, said special Celtic strips were made to mark the occasion which bore Mr Sutherland's nickname – Suds.
Mr Reid described his pal as a "born and bred Brocher from a fishing family".
And he added: "He had been at sea since leaving school and was fine, but started getting blackouts. He was diagnosed with a brain tumour and was told it was terminal almost a year to this day."
Mr Sutherland had been a member of local Celtic supporters club, Buchan Bhoys, and had been travelling to games since he was 15.
He had even helped organise a joint supporters bus for Celtic and Rangers devotees in the run-up to a cup final.
Mr Sutherland's wife, Lesley, said the "caring and fun-loving" offshore worker would have been proud to be remembered by everyone so fondly.
She said: "The effort everyone put in was fantastic and the fact so many people put themselves out for my husband was very humbling.
"It was a very, very touching experience. It was a great turnout and there was a good feeling."
The pair's 20-year-old son, Stuart, contributed a goal on the day to help Celtic win 4-1.
After the game, memorabilia from both clubs, including signed shirts, was raffled off to add to the donation which was made to Fraserburgh's lifeboat crew.