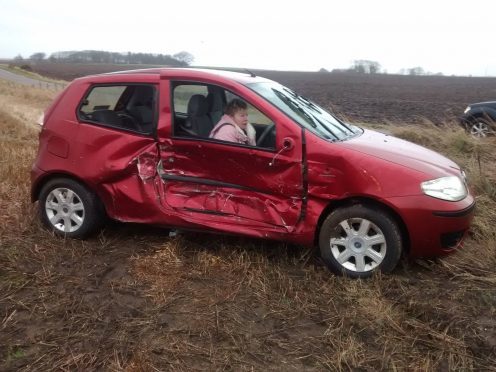 An artist has relived the ordeal of being trapped in her car after a smash on a quiet country road.
Jill Chandler suffered rib injuries in the accident near her home and said she had "never known pain like it".
Her photographer husband Mike – who dashed to the crash scene after being told she was involved – took dramatic pictures of his wife still stuck in her crushed Fiat Punto.
They show that the driver's side of the hatchback bore the brunt of the impact in the collision with a white Ford Escort van.
Mrs Chandler, 66, said: "I never saw anything coming.
"The first I knew about it was this almighty 'bang' and the next thing I was in a field, through a barbed wire fence.
"I had never, ever had an accident in my life in my 40-odd years of driving. I was on my own and on my way home, and I was only driving because the car needed a run."
Firefighters called to the scene near the Cortes junction, about five miles south of Fraserburgh, had to cut open Mrs Chandler's car to free her from the wreckage and the water colourist was carried to a waiting ambulance.
She said: "They managed to open the passenger door, but because of the pain I couldn't climb over the gear stick and everything to get out. They had to cut me out.
"I was carried to the ambulance, then I was taken to Fraserburgh Hospital.
"I've never known pain like this."
Mrs Chandler, who is now recovering at home, was on a minor road which connects the A90 Fraserburgh-Peterhead road with the B9033 route towards St Combs, Cairnbulg and Inverallochy.
Prominent local artist Jill Chandler, based out of Lonmay, near Fraserburgh, was driving her red Fiat Punto on back roads close to her countryside home on Friday afternoon when she was hit by a white Ford Escort van as she drove away from the Cortes junction.
Her car, which was written-off in the smash, careered into a field.
Four police units, two fire engines and an ambulance went to the scene.
Mrs Chandler, who is a self-taught painter, began documenting the birds and beasts of Buchan in water colour in 2011.
Last year, her work was featured in the North East Open Studios exhibition.
She was also interviewed by television personality Janet Street Porter for a documentary about Scottish independence last year.