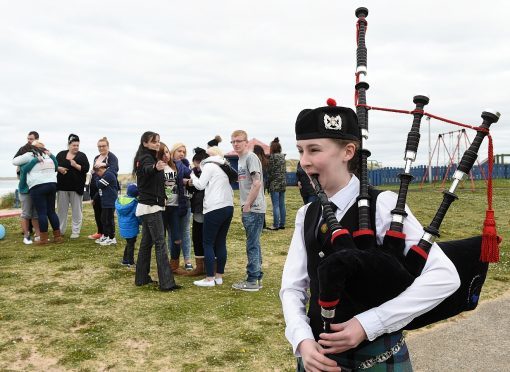 The friends and family of Shaun Ritchie held a celebration last night to mark the 22nd birthday of the missing Fraserburgh man.
A gathering, led by Mr Ritchie's sister Nicole Shand, released balloons from Fraserburgh beach in his memory.
The poignant ceremony came 563 days after Miss Shand last saw her older brother, prior to his disappearance in remote woodland near Strichen, following a Halloween night out.
Miss Shand said: "It is really important to me and my family because it has been such a long period of time that he has been missing.
"It keeps him in everyone's thoughts and he was taken far too soon."
The memorial, held yesterday evening, was the second occasion the family have had to remember Mr Ritchie's birthday in his absence.
Miss Shand added: "He deserves justice and my family deserve the closure and answers that we need.
"It has gone on far too long now. We are a grieving family who love and miss Shaun very much and just want him home and laid to rest."
Despite one of the largest search operations in Scottish police history, specialist rescue teams have yet to establish his whereabouts.
Mr Ritchie's family have launched a petition, calling for a review of the case, and have already collected more than 1,650 signatures.
Last night Detective Chief Inspector Matt Mackay, who has been leading the investigation, said there was still no evidence Mr Ritchie was the victim of any crime.
He said: "Since Shaun was reported missing, extensive and detailed police searches have covered a total area of eight square miles.
"In addition, 13 miles of ditches have also been searched, making this one of the biggest ever search operations carried out by Police Scotland.
"Despite this, Shaun has not been found and this is still a missing person inquiry."
DCI Mackay said the inquiry had been subject to "regular reviews" and that he and his team would always keep an open mind about the circumstances surrounding the disappearance.
He added: "Our support to Shaun's family continues alongside our efforts to find Shaun and we have regularly met with them to keep them updated on the inquiry."