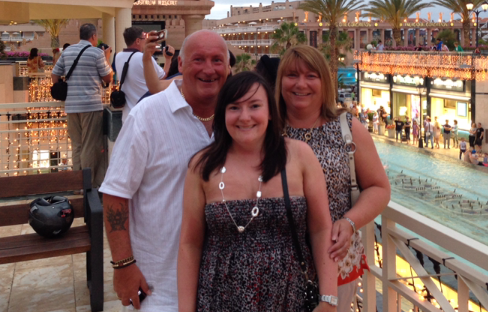 The distraught family of a woman whose insides "turned to china" have launched a campaign to find a cure for the rare condition which claimed her life.
Marlene Duncan from Peterhead was diagnosed with a little-known form of systemic scleroderma in 2014 after being rushed to hospital on Boxing Day.
The 49-year-old's immune system attacked the connective tissue around her digestive tract. As the organs healed and scarred over, the hardened tissue stopped them from working.
Despite unstinting efforts from doctors, Mrs Duncan eventually lost her battle with the harrowing disease in July.
The dying wish of the job centre employee was that no other families should have to go through the heartbreak which her loved ones experienced for more than 18 months.
And now, husband Michael and daughter Megan are raising funds and awareness for the only support group available to the 12,000 sufferers – Scleroderma and Raynaud's UK (SRUK).
Last night, Mr Duncan said: "We initially thought it was a sickness bug, but then, on Boxing Day she was rushed to ARI. The condition was creeping up on her.
"Words cannot describe how bad it was. To have watched a healthy woman disappear like that – you knew she was in pain, but she never complained.
"Marlene just didn't deserve it. At the end of the day, no matter what happened, she always said thank you."
Megan Duncan added that the medical professionals had never witnessed such a severe case of scleroderma or a patient's condition deteriorate so quickly as it did with her mother.
When her digestive tract hardened to the point where she couldn't ingest food at all, Mrs Duncan spent her last months being fed with a nutrient bag straight into her system.
Mr Duncan said: "There is nothing you can do. She said at the end of the day she wanted to help others with rare conditions. If she could help someone, she would be smiling.
"I would like to praise all her doctors and the NHS – they don't get enough support."
More than £1,000 has already been raised for SRUK since Mrs Duncan's death in July. The next event is a quiz night at Peterhead FC's Balmoor Stadium on November 19.
The Duncans are also appealing to local businesses to join their campaign to battle scleroderma.
To donate to Marlene's Memories visit: www.justgiving.com/fundraising/marlenesmemories
Scleroderma and Raynaud's UK
Scleroderma and Raynaud's UK is the only charity which supports sufferers like Marlene. Now the Duncan family are raising money for the organisation.
SRUK's Amy Baker said: "The strength of our community is always an inspiration. At this very difficult time, Michael and Megan have decided to celebrate Marlene's life by fundraising in her memory to support other families, who are facing the challenges of scleroderma.
"We would like to thank Michael and Megan for raising a fantastic £1,049 to support our work and increasing awareness of this littleknown but potentially devastating condition."
Scleroderma is a rare, chronic disease of the immune system, blood vessels and connective tissue. More than 2.5million people worldwide have the condition although few cases are as severe as Mrs Duncan's.
One of the first signs of scleroderma is the common condition Raynaud's, as well as hardening of the skin, swelling of the hands and feet, joint pain and stiffness.
Raynaud's is a common condition, believed to affect up to ten million people in the UK. It causes blood vessels in the extremities to be over-sensitive to changes in temperature.
An SRUK spokeswoman added: "It's crucial individuals who may be concerned seek medical advice, treatment and support as early as possible.
"In that way, we hope people receive diagnosis and treatment sooner, giving a better longer-term outcome."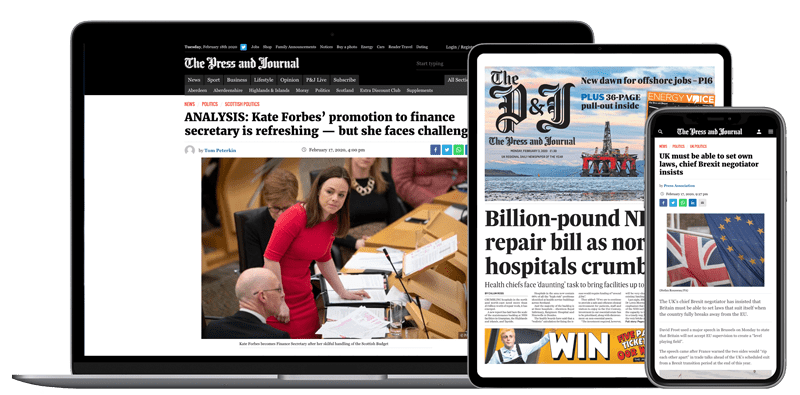 Help support quality local journalism … become a digital subscriber to The Press and Journal
For as little as £5.99 a month you can access all of our content, including Premium articles.
Subscribe