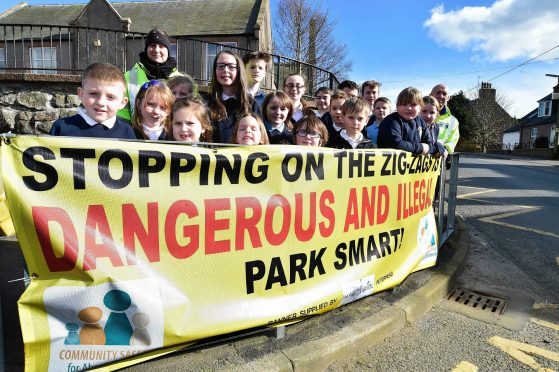 A new safety initiative was unveiled in Buchan yesterday with the help of local youngsters.
The Park Smart campaign encourages motorists to think twice before leaving their vehicles near schools in an attempt to prevent congestion and keep pupils safe.
As part of the scheme, massive banners have been erected outside school gates to encourage drivers to move on.
And yesterday, Hatton Primary School in Peterhead provided their backing to the initiative.
Community warden Ian Kennedy has been working with the local safety group to help propel the strategy forward within the area.
He said it was "great" the pupils had offered their support and added: "The community wardens have been liaising with the Buchan community safety group for this initiative.
"This is the second time we've done it and, hopefully, these banners will make a difference at the school for the children's safety.
"Schools across Buchan have had problem with parking, not just Peterhead schools."
The Park Smart campaign has been running since 2015 in Aberdeenshire, when it was launched in partnership between the council and Police Scotland.
Initially, 16 schools piloted the project including South Park Primary School in Fraserburgh.
Parents there have been outspoken critics of the problems, associated with inconsiderate motorists parking their cars near the school during busy pick-up and drop-off times in the mornings and afternoons.
Aberdeenshire Council has estimated that one in five journeys to school made by car put the safety of pupils who choose to walk or cycle at unnecessary risk.
A spokeswoman for the police said parking matters were for the council to rule on.
She added: "However, we would remind members of the public to respect them when they are in place."
Safety group member Anne Allan added: "There is a problem with parking at a lot of primary schools in the Buchan area.
"And we will support any actions that the community safety group can do to help bring people's attention to the problems they're causing."