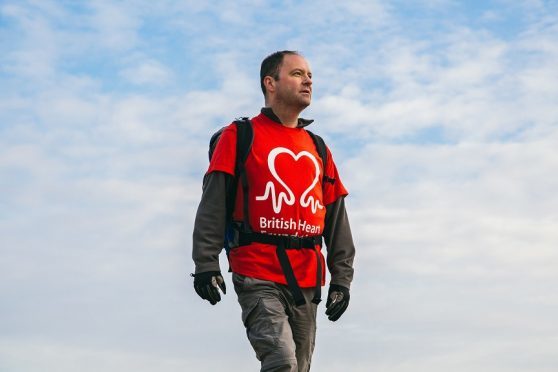 A man who has survived heart failure, a series of mini strokes and a transplant arrived in the north-east yesterday on a year-long walking tour of Britain's coastline.
Kieran Sandwell was born with a congenital heart defect which overshadowed his life until he was given a new heart and a "second life" in 2009.
Now the 46-year-old is walking the entire circumference of the UK in a bid to raise £100,000 for the British Heart Foundation.
He has already donated his old heart to the charity for medical research.
Mr Sandwell expects his challenge will take him nearly an entire year but hopes to arrive home to Hemel Hempstead in time for Christmas. To date he has completed just over a fifth of the 5,000-mile journey.
Mr Sandwell, who set off from London in February and is walking anti-clockwise around the country, arrived in Peterhead yesterday.
He said: "The seals at Newburgh were amazing, and walking into Cruden Bay was beautiful. Unfortunately I arrived in a bit of a storm."
Mr Sandwell has taken a year out from his IT post with the NHS to complete the mammoth challenge.
"I decided to take a year out," the 46-year-old said. "I've fancied it for about 25 years but I was in bad health. I've run the London marathon twice and I know the risks. This is just another step of madness."
Mr Sandwell will continue his mission today when he walks to Fraserburgh via the villages of St Combs and Inverallochy.
He said that he has been overwhelmed by the support of strangers along the route. Some have tracked him via his blog's GPS and joined him for the walk. Others have offered accommodation free of charge.
"It's about half and half now, in terms of paying for accommodation and not," he added. "It's good to be meeting people."
When Mr Sandwell reaches Inverness in around a fortnight he plans to do something he has never done before – camp. To support Mr Sandwell's bid to raise £100,000 for the British Heart Foundation, visit atrailoftwohearts.com