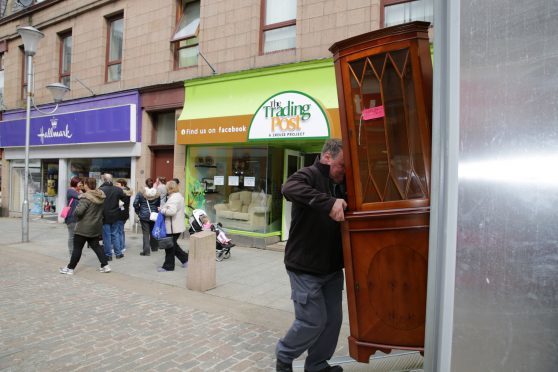 A charity leading the regeneration of a north-east town has collapsed amid financial difficulties.
Peterhead Projects was set up eight years ago to improve the town by creating jobs and inspiring locals with community projects.
But due to financial problems, the trust has folded – resulting in 10 redundancies and leaving the future of several projects hanging in the balance.
As well as running three charity shops, the charity was also behind larger schemes including the Lido Caravan Park and the Buchan Meadows Community Woodland, which was used for practical school lessons about the environment.
It is understood the popular caravan park will remain open, but a "green spaces initiative" to grow an urban garden on derelict ground in the heart of Peterhead has been thrown into jeopardy.
Peterhead Projects – which was based at The Trading Post store on Marischal Street – also coordinated the annual festive appeal, which encouraged people to donate a gift for a child who may otherwise have nothing to open on Christmas Day.
It is understood the board of directors met last week in a last-ditch attempt to save the trust but ultimately decided to fold the group.
Staff were informed on Friday, and a petition has now been submitted to Peterhead Sheriff Court to wind up the trust. It is expected the company will go into provisional liquidation in the coming days.
Last night a spokeswoman for insolvency firm Begbies Traynor confirmed all 10 staff have been made redundant.
"Begbies Traynor is working with the directors of registered charity Peterhead Projects Limited to assist with the organisation's current financial problems.
"Unfortunately, the organisation has run into financial difficulties and approached Begbies Traynor to help it work through the issues.
"The shops have ceased trading with immediate effect and all 10 staff have been made redundant."
Peterhead Projects oversaw two 2ReUse outlets in the town's Berryden area and Skelton Street. They sold up-cycled furniture and offered volunteers the chance to work on furniture and improve their trade skills.
Yesterday trust development manager Ken Duncan opened The Trading Post to allow independent retailers to collect their wares and to offer remaining goods to passers-by for free. A removal van carried away items of furniture.
Mr Duncan declined to comment.
Last night Peterhead councillor Stephen Calder said he was disappointed to hear the news.
He said: "I am concerned at the effect on the staff now made redundant, including the many volunteers who have gained by this opportunity to contribute to the wellbeing of our community.
"I hope that this good work can be carried forward in some form in the future and, as a councillor, I will look to uniting the community and local council to bring this about."
Last night John Pascoe, vice-chairman of the town's business improvement district Rediscover Peterhead, said it was a "blow" for the town and highlighted the need for the community to support local businesses.
He said: "It will be a blow for the town in terms of a community project which has folded.
"It does really hammer home how important footfall is in the town centre. That's what we're trying to do."
Mr Pascoe added that although The Trading Post was not a large business in relation to other firms in the area, it remained a "high profile" store.
The Berryden branch of 2ReUse will be open today and all goods will be free to take away.