The founder of oil and gas engineering giant, Score Group, Charles Ritchie, has been described as a visionary businessman and adored grandfather, following his death at 69.
Mr Ritchie launched the firm in 1982 and it has subsequently developed into an international group of engineering businesses, providing valve and industrial turbine services for the offshore, nuclear and marine sectors.
Employees at the company were informed of his death -after a short illness – in the early hours of yesterday.
Last night Mr Ritchie's son Conrad described his father as a titan of north-east business who worked tirelessly in the community.
"We are trying to come to terms with the loss," said the managing director of Score Europe.
"Charles was a formidable businessman, mentor and great friend to many. He spent his life building the Score Group.
"He was generous with his time in later life and did everything he could to help his beloved homeland."
Charles Ritchie was a fierce unionist and campaigned against Scotland breaking away from the UK in the run-up to the 2014 independence referendum.
His son added: "At times, he was misunderstood and could be very determined; most of all though, he was a family man and an adored grandfather."
Score Group employs more than 1,700 people globally including 800 in Peterhead. The company is renowned for taking on apprentices and currently has 300 in a variety of training schemes.
Mr Ritchie's family said his mentoring of young people would be his "legacy", and stated that he was very proud of building a new medical centre in Crimond.
Ann Bell, chairwoman of the Crimond Medical Equipment Fund, said: "I have known Charles for over 50 years.
"I know him as a man of strong opinions and a big heart – a man who expects a lot, but gives a lot. A man with a strong sense of community who for more than 30 years has, mainly anonymously, supported Crimond Medical Equipment Fund.
"I speak, on behalf of the committee and community, in thanking him for his generosity in providing the amazing facility which now stands as a fitting legacy to his name."
"My thoughts go to his wife, Beryl, and his family."
Rodger Morrison, prominent local business figure and chairman of Peterhead Football Club responded: "All of us are shocked and saddened to learn of the passing of a great friend and patron to this club, the one and only Charles Ritchie, founder of Score Group."
The success of the company made Mr Ritchie one of Scotland's richest men and, in 2015, he placed 23rd on the country's "rich list".
At the time, he had a personal fortune of £75million.
Jim Savege, chief executive of Aberdeenshire Council, emphasised the positive impact Score Group has had on the region for three decades.
He said: "Charles Ritchie will be sorely missed as a figurehead of industry in the north east.
"He has been the driving force behind Score Group and they have become one of the largest employers of apprentices in Scotland, fuelling the economy of the north-east and providing generations of skilled workers for the energy and engineering industry."
Council leader Jim Gifford added Mr Ritchie's death would cast "a long shadow" over Aberdeenshire, but hoped his family could take comfort from how much he will be missed.
Last night, north-east Conservative MSP Peter Chapman said: "He was a visionary and, through sheer hard work, built up a fantastic business that now operates on a global scale. Yet, he would never have considered moving the HQ away from the local area.
"I must pay tribute to his enormous support for young people through an apprenticeship system that was the envy of companies not only across Scotland, but the whole of the UK. I considered him a true friend."
And his fellow Tory, Banff and Buchan MP David Duguid, added he was "deeply saddened" by the news.
He explained: "Seeing first hand his commitment to improving the prosperity of the area, particularly through the education and development of young people, was truly inspirational."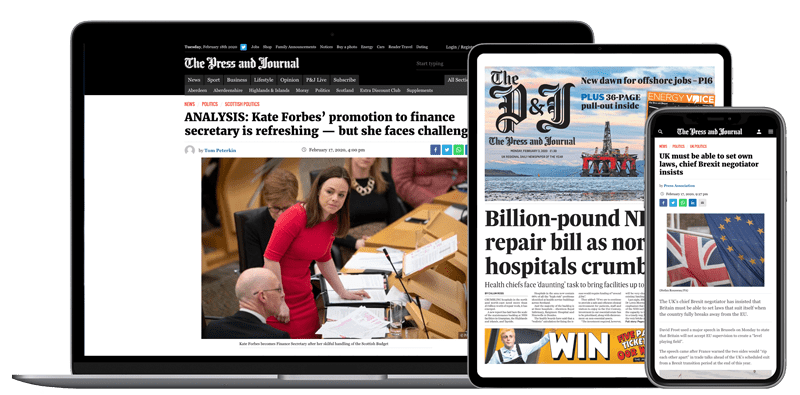 Help support quality local journalism … become a digital subscriber to The Press and Journal
For as little as £5.99 a month you can access all of our content, including Premium articles.
Subscribe