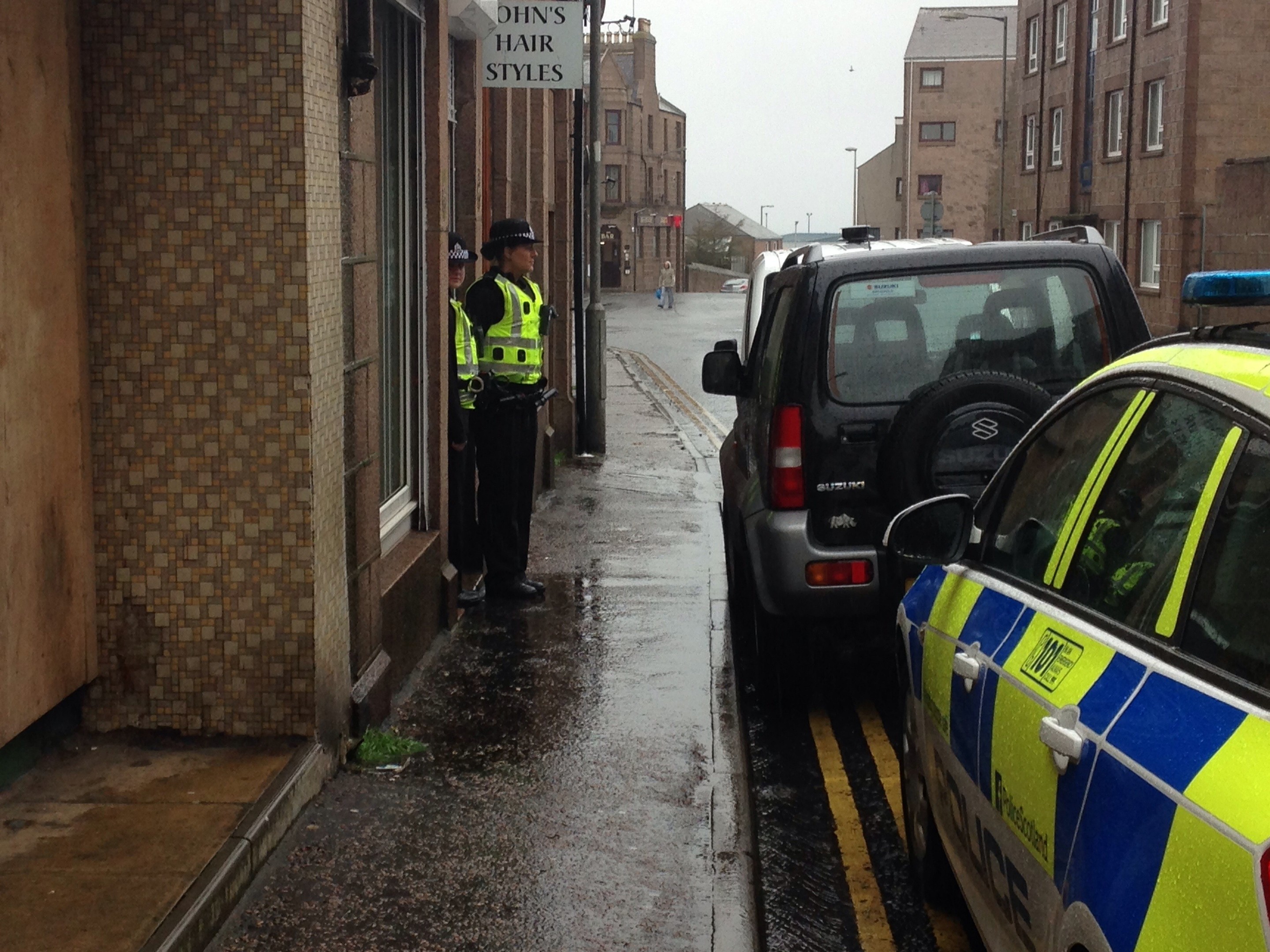 A stash of drugs was found in a town-centre shop during a swoop by police and trading standards officers hunting for legal highs.
The Class B substance – believed to be cannabis – was recovered from the Just The Thing store in Peterhead's Backgate during an operation yesterday afternoon.
About a dozen plain-clothed and uniformed police officers working with a team from Aberdeenshire Council's trading standards unit spent three hours searching the building.
Officers targeted the shop after receiving intelligence that drugs were on the premises, while trading standards were looking for "new psychoactive substances (NPS)".
The concoctions are legal but are branded as not for human consumption – yet many are sold over the counter as party drugs.
A police spokeswoman said: "After receiving intelligence from members of the public officers, alongside trading standards, raided the store.
"We can confirm that as a result a quantity of Class B drugs were found on the premises and a local man is helping us with our inquiries.
"We will be supporting trading standards as they continue to act on their own investigations into the sale of NPS in the area over the coming days and weeks."
The dangers of NPS are not fully known as the chemicals involved are unlikely to have been tested properly.
Police also warned users that some may contain illegal drugs.
The council's trading standards team said it was working hard to take legal highs off the streets and to clamp down on shops mis-selling the substances.
Wilma Urquhart, trading standards manager, said: "We are actively working with Police Scotland to tackle the sale of so-called illegal highs in any way available to us.
"These products are sold in the full knowledge that they will be consumed or otherwise ingested regardless of any warnings to the contrary."
One local councillor welcomed the hard-line approach by the police and Aberdeenshire Council.
Peterhead South and Cruden member Stephen Smith said: "It's good to see partnership working like this between the police and trading standards officers taking pro-active steps to protect the public.
"I think the term 'legal high' is a bit misleading because if this was something which was socially acceptable with no health risks whatsoever, there would be no need for the people selling them to disguise them as plant food or bath salts."
Legal highs have reportedly caused 47 deaths in Scotland.
The most recent statistics have revealed 323 recorded hospital admissions as a result of the use of legal highs across the country since 2009.
In 2013, there were 139 hospital admissions, compared to 61 in 2012, indicating a doubling in the number of legal high users seeking medical attention.
Now local drugs charities are attempting to target parents to educate them about the dangers of legal highs.
Wayne Gault, lead officer for the Aberdeenshire Alcohol and Drug Partnership (ADP), said: "We've noted with some concern the changing pattern of drug use, particularly the growth in availability of NPS, misleadingly known as 'legal highs'.
"They are a range of chemicals that can be used to induce an intoxicated state. They tend to be marked not for human consumption as a means of getting round the law.
"Families have also expressed concerns, particularly in the Peterhead area."