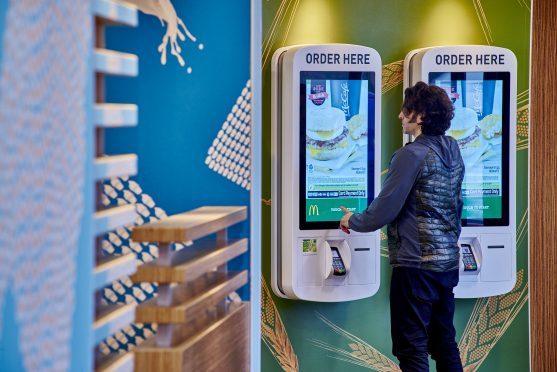 A north-east fast food restaurant has reopened after a refurbishment which has created 20 new jobs.
The Peterhead branch of McDonald's has undergone a major overhaul which has also added touch-screen displays to let customers read the menu and order more easily.
Franchisee Craig Duncan – who runs nearly a dozen branches in the north-east – has also brought in table service, changing the way the American fast food brand operates.
His eatery on the outskirts of Peterhead is one of 500 UK stores making the change.
Mr Duncan said: "Having already seen these changes in my other restaurants I have been overwhelmed with the positive response from my customers and employees.
"I've been a franchisee for more than 10 years and have seen the McDonald's experience transform in this time."
He said that customers are staying in longer to use the wi-fi that is now available.
Other firms in Peterhead are currently discussing a free town centre wi-fi network to attract customers back to the heart of Peterhead.
Those proposals are part of the on-going Rediscover Peterhead business improvement district proposal.
The land around McDonald's, at the southern approach to the town, is also being developed with a new hotel and pub under construction.
Mr Duncan added: "Our restaurants are a great leveller and are able to suit the needs of people from any background who want to come in grab a bite to eat or drink and enjoy the atmosphere these changes have created."
Mr Duncan said the 20 new staff he is taking on, in a mixture of part-time and full-time posts, will be able to "widen their skill set" with the new technology that has been put in the restaurant.
The jobs are being advertised through the company's website.