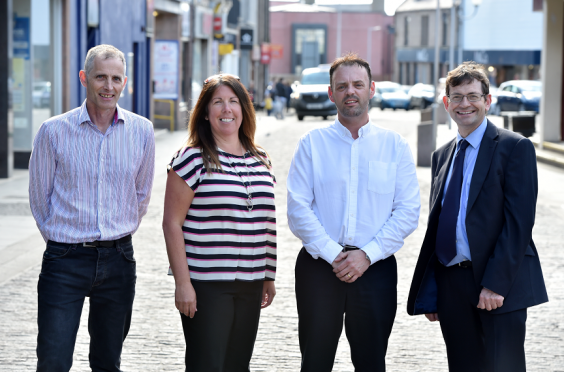 Entrepreneurs from the heart of the north-east's biggest town will gather for a summit to discuss its future.
Rediscover Peterhead is a business improvement district (BID) initiative which is proposing a £750,000 transformation of the port's shopping district with CCTV protection and free wi-fi for visitors.
Other highlights of the organisation's business case include a deep clean of the area around Drummers Corner and Marischal Street as well as stricter controls on nuisance gulls and a shop loyalty scheme.
The popularity of BIDs is growing, with 270 schemes in place across the UK and nearly 40 in Scotland.
Under the scheme, firms in the district pay a levy into a central pot which is then used to fund initiatives which benefit all enterprises.
Tomorrow Rediscover Peterhead is hosting a meeting at the Palace Hotel between 5.30pm and 7.30pm to answer any questions.
Representatives from Visit Scotland, Visit Aberdeenshire and the police will be among those available to be grilled and they will be joined from the team behind the nearby Inverurie BID project.
Last night Rediscover Peterhead's vice-chairman John Pascoe said: "We have a good core of businesses supporting the BID but likewise we have a number who are either definitely against it and have no desire to discuss it further or, more often, those with a few misunderstandings.
"There will be an opportunity to either ask questions across the floor or speak with the BID steering group before or after the presentation. We encourage anyone who is sceptical to come along as there is nothing to lose and either way it affects the future of Peterhead town centre."
Mr Pascoe added that although there is a "fear of the unknown" from some quarters, the ideas put forward in the recently published business plan have found support.
Tomorrow's presentation will cover what a BID is and how it operates as well as specific details about the proposals for Peterhead.