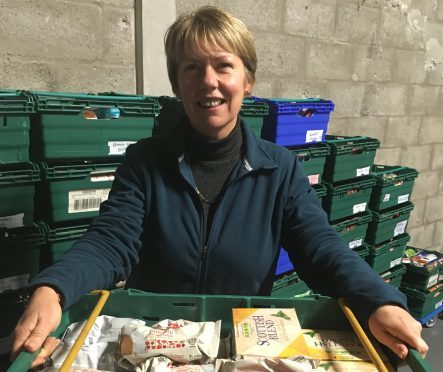 An under-pressure food bank has launched an urgent appeal for a permanent base in the north-east so it can help meet demands.
Aberdeenshire North Foodbank has been operating out of a temporary office in Peterhead's Kirk Street since December 2016 and has this week announced that demand has continued to grow for emergency food parcels in the port.
Since the charity first formed in 2012, the number of adults and children using the service has almost doubled.
And last year, it fed 2,325 people in the town.
Today, it says it hands out about 60 parcels every fortnight to hungry families.
Last night, charity manager Jeannie Price said being able to find a permanent home in Peterhead would allow volunteers to do more than just provide food.
"We're at a point where it would make more sense to have a physical presence – where people can get a parcel made up for them but also receive additional help and support," she said.
"The demand for the boxes has been going through the roof, so the sooner we can get somewhere in the town the better in terms of being able to provide the best support we can for people who need help.
"The benefit of having somewhere will mean people, who are maybe at their lowest ebb, can speak to someone.
"What we have now is better than nothing."
Having a physical presence in the town which is serves would also make it easier for people to donate fresh food and toiletries, which the charity cannot offer at present, and volunteer their time with the group.
Excess donations could also be handed out to other food banks across the region.
Mrs Price added: "People are very helpful and we're confident that people would want to support us if able.
"If we were able to start collecting food in Peterhead, it would create a central supply for Inverurie, Ellon and Huntly."
The town's reliance on the food bank has intensified following the collapse of a similar initiative in the port last year.
The Joseph Storehouse in Peterhead was formerly the town's only regular food bank and operated out of the Apex Church.
It closed doors suddenly just days before Christmas last year without explanation, but had helped 7,000 people in its three years of operation.
Just weeks earlier, St James Church in Cruden Bay, near Peterhead, said demand for food banks was "greater than ever".
But despite winning £10,000 through Aberdeenshire Council's Your Voice, Your Choice scheme to fund a move into a permanent base, Aberdeenshire North Foodbank has been unable to secure a location.
The charity is now appealing to property owners in the town to reach out.
Anyone who can help is asked to email Mrs Price at jprice@aberdeenshirenorth.foodbank.org.uk