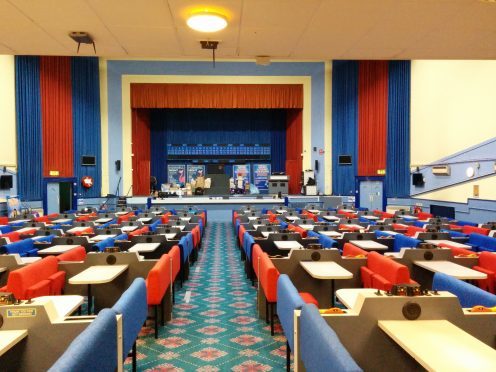 It was eyes down for the final time at a north-east bingo hall this week.
More than 350 people attended the last ever games at Gala Bingo in Peterhead's Marischal Street on Wednesday night.
One former staff member, who didn't want to be named, said it was "nuts" and they did consider closing the doors.
Last night, the venue's fruit machines were loaded onto a waiting van as the clear-up operation began.
The building and adjoining nightclub, Drummers Bar, were put up for auction last summer and have been sold to a private buyer.
The bar and nightclub was formerly operated by Hudson Leisure Group but last opened its doors five years ago.
Gala have previously said that efforts would be made to retain the 13 members of staff employed in Peterhead, but the nearest establishment it operated was in Aberdeen.
It remains unclear what the future holds for the building, but Peterhead North and Rattray councillor Dianne Beagrie hopes it is turned into something that brings visitors into the town centre.
She said: "I am disappointed to see Gala Bingo close and the staff losing their jobs in Peterhead, but glad to hear Gala are making every effort to relocate the staff to another hall.
"A lot of people will miss the social aspect. But I am glad to hear that the properties have been sold.
"We don't need any more empty properties in the town.
"I look forward to hearing the plans of the new owners and I hope it's a venture that  brings people into the town."
A spokeswoman for Gala said: "We can confirm we have exchanged contracts with a third party to buy our Gala Bingo club in Peterhead.
"The decision to sell the club has not been an easy one, and does not in anyway reflect on the performance of our management team and colleagues at the club, as they have delivered a first class service to our customers over the years.
"Every effort will be made to seek redeployment opportunities for our affected employees."