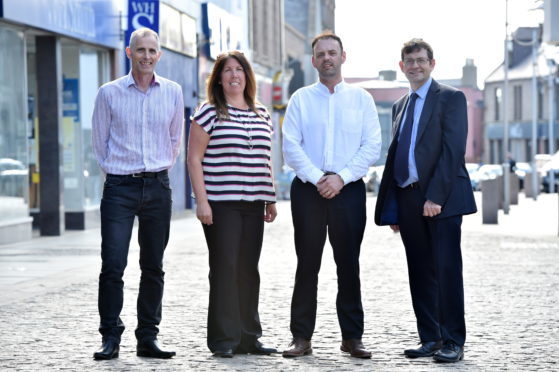 An organisation set up to transform the fortunes of Peterhead town centre plans to hold a major event to showcase the area.
Rediscover Peterhead was formed after local residents approved the creation of a business improvement district (BID) last year.
The event will be held in the town as part of the launch of a five year plan drawn up to help boost visitor numbers and improve shopping in the region,
Rediscover Peterhead has now launched an appeal for local residents to get involved by submitting their ideas to help boost the economy of the biggest town in the north east.
Chairman John Pascoe said: "We are in the early discussion stage with a number of community groups, individuals and funders with regards to a major event, possibly in the autumn.
"There is a great passion within the town for a showcase event which will put Peterhead on the map and that is precisely what we are planning.
"But while we have ideas of our own for events we want to hear from Peterhead folk as to what will capture their imagination and bring them down to the town centre throughout the year."
Mr Pascoe said the group are also working with the country's leading tourism organisation in a bid to entice shoppers from far and wide to visit Peterhead.
He said: "We have held very constructive talks with Visit Scotland with regards to a robust and far-reaching digital marketing strategy for the town and we are now focussing on our target markets to attract new visitors to the area.
"We have a rich heritage in Peterhead, fantastic scenery, some wonderful attractions and businesses which need to be far better marketed to a wider audience – both in Scotland and abroad.
"Thanks to the support of Visitscotland we will ensure a tailormade marketing strategy is created to substantially increase footfall in our town and provide economic benefit to businesses within it."
Anyone with suggestions for events in Peterhead town centre is urged to contact mail@rediscoverpeterhead.co.uk
The BID is funded by an annual levy, paid by the 225 businesses based in the town centre.
About £110,000 will be generated in each of the five years it runs.