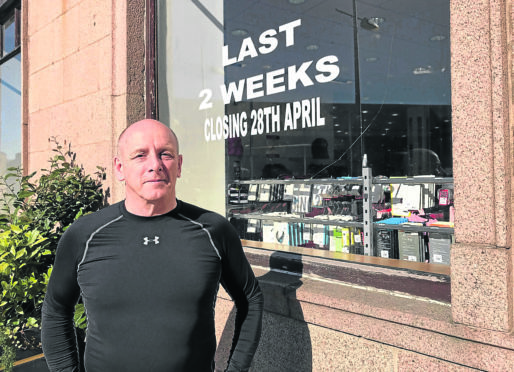 A north-east high street will take another blow later this month when a popular sports shop closes its doors for the final time.
David's Fashion Sport (DFS) has been a mainstay of Peterhead town centre for 20 years, but late last year the owners decided they were moving on.
Now they have announced the shop will close on April 28 – just months after Gala Bingo pulled out of the town, leaving another prime spot empty.
Graham and Anne Brownie have run the store, as well as other DFS branches across the north-east, since 1997.
But the lease is due to expire, and they have now decided to focus on their Inverurie store.
Mr Brownie said: "It is disappointing to leave the street with a gap in it.
"I have been involved in retail for 41 years and it is getting unbelievably tough.
"I have enjoyed it, there have been stressful moments, but overall it has been good times."
Last night, hopes were raised that the DFS site on Marischal Street will be snapped up, given its size.
Peterhead BID chairman John Pasco said he was confident it would not stay empty for long – and hinted other retailers may also be interested in the town centre.
He said: "This has been known for a while and I guess coincides with the end of their lease.
"Whilst it is disappointing to see a business close in Peterhead, as far as I know another retail business is set to take over the Marischal Street unit.
"I am aware of a number of changes in the various business premises in the town centre that will see an overall increase in occupancy levels."
Peterhead South councillor and town centre ambassador Stephen Calder admitted the closure was a "big blow", and described the shop's location as a "vital part" of the town.
He said: "It is in a vital part of the town overlooking Drummers Corner.
"The shop closing down will be a big blow, but because of its position I would be looking to have it reopened either as a shop or even for community use.
"I am worried about any shops like that closing in the town, but it is not just about shops – we need other facilities to bring people in.
"It is a negative thing that the store is closing but I hope there will be a positive coming out of it."