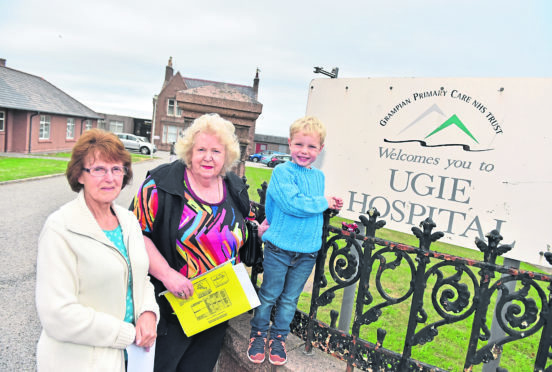 A group of campaigners gathered to protest about the potential closure of a north-east hospital yesterday.
Aberdeenshire Health and Social Care Partnership is currently reviewing the treatment provided at Ugie Hospital in Peterhead.
It is considering six options for Ugie's future, with "investment and modernisation" listed first – but this has been deemed a costly option.
All five other options will likely result in the Ugie's closure.
The 111-year-old hospital provides care for elderly patients who require further care after leaving hospital in Aberdeen with capacity for 14 inpatient beds.
The closed Buchanhaven dementia-focused wing of the building has space for 14 more but was boarded up in 2011.
Locals gathered at the site yesterday to make their case for the hospital to be saved.
Arthur Buchan, a 86 year-old retired skipper, said: "It's disgusting to think of them closing here.
"My wife spent nine years here, a long time, and it was just a home away from home.
"The care and attention she received was second to none – there's even a thing on the wall which says it was the top for hygiene and cleanliness in Grampian at one point.
"I'm 100% against closing this place."
Ann Shreeve, who brought the group together, said closing the centre would be "shameful".
She said: "Instead of sitting speaking about it we're bringing some action.
"A meeting was called about the review and although they never said 'it's closing', it is a big possibility.
"My mother was in the ward for years – it was beautiful with great staff.
"We're up in arms about it – we have to do something."
Another man at the protest said if it closed it would mean "another thing taken from Peterhead".
Councillor Alan Buchan said it made no sense to think of closing such a facility when other hospitals are "screaming of bed shortages".
A report of the review findings is due to be published in August.
NHS Grampian has said that the final decision lies with the board but they will contribute to the consultation taking place.