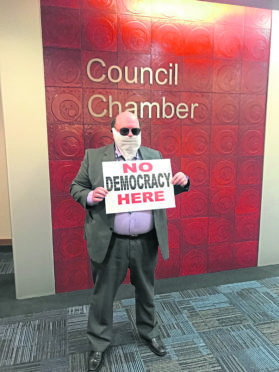 Aberdeenshire Council has been accused of being "anti-Peterhead" by one of its own members.
Councillor Alan Buchan was ejected from a full meeting of the council last month for staging a masked protest over the Peterhead Community Campus project.
The Peterhead North and Rattray councillor was forced to leave the chamber by Provost Bill Howatson after attempting to raise questions about the £71 million scheme – which he wants delivered sooner than scheduled.
Mr Buchan branded Mr Howatson a "dictator" for refusing to take his questions on the matter and had previously called for him to resign.
At the time of the protest, Mr Howatson said he was "disappointed" by his colleague's actions and that he had never had to use such a sanction before.
Now Mr Buchan, a member for the Peterhead North and Rattray ward, has accused Aberdeenshire Council of being against the Buchan town.
His concerns about an apparent lack of investment in Peterhead stem from proposals for the town's new school.
He wants it built sooner rather than later.
Mr Buchan said: "We were promised the new Peterhead Academy would be built between 2017 and 2022.
"The new capital budget has since come out and it has been put back again to 2023/28.
"If you look at the finances of the council, they are out of money.
"They cannot raise the £70 million to build a new academy because they have spent all the money in Inverurie and places like that.
"The last thing we got in Peterhead was the community centre 35 years ago under Grampian Regional Council.
"That was the last substantial building built in Peterhead.
"I will continue to expose the undemocratic and anti-Peterhead attitudes of the council until Peterhead gets its fair share."
As part of the council budget in February, councillors agreed to provide £71 million for a new community campus in Peterhead as part of the authority's capital plan.
Officers are now building a business case for the project, which is scheduled for completion between 2023 and 2028.
Last night, Councillor Norman Smith, chairman of the council's Buchan area committee, said developments in the town were moving ahead.
He said: "I would like to reassure residents in Peterhead that although the 2023 to 2028 dates outlined in our capital plan appear far off, we are working quickly and purposefully to ensure this fantastic state-of-the-art community campus is built as soon as possible so that people in this town will see the benefits.
"We are absolutely committed to making Peterhead the best possible place for people to live, work and visit. As well as the new community campus there improvements such as Drummers Corner; new businesses relocating to the town and attractions such as the Arbuthnot Museum and recreational facilities such as Catto Park demonstrate that we are working with the community to positively transform Peterhead.
"The committee has requested to be kept fully updated over the coming months as plans for the community campus develop."