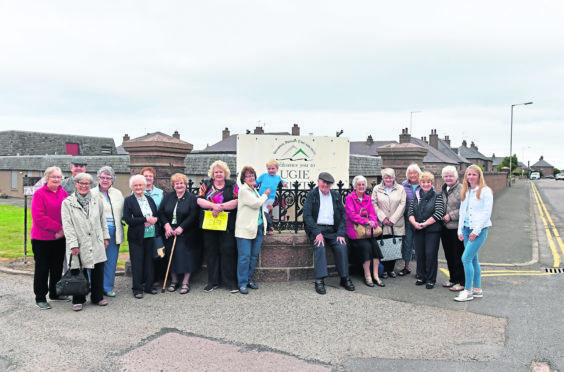 Staff at a closure-threatened hospital claim they have been left in the dark, causing morale to plummet to "rock bottom".
Ugie Hospital in Peterhead is currently under review by Aberdeenshire Health and Social Care Partnership,
Several options are on the table, the only one which could save it – "investment and modernisation" – has already been identified as a costly exercise.
And campaigners believe all the proposed options put forward by the AHSCP will result in the ultimate closure of the hospital.
Last night, former hospital manager Margaret Morgan claimed staff are "frightened" for their jobs.
Ms Morgan retired late last year, but keeps in close contact with her former colleagues – and admitted last night she felt like she had "abandoned" them just as trouble hit.
She claimed: "They're not being kept informed about the chance of the closure, and they're panicking.
"Many of them are looking for other jobs due to the fear of being redeployed to another area they can't manage, and some have already left to the uncertainty – who can blame them for looking for other jobs?
"Since January staff have struggled with the possibility of the Ugie Hospital closing and were told a decision would be made in June.
"No-one has received any updates about what is happening leaving staff morale at rock bottom."
Ugie Hospital provides treatment for patients who require further rehabilitation after being discharged from Aberdeen hospitals before going home.
The 111-year-old facility currently has 14 inpatient beds in the Ravenscraig Ward.
The dementia-focused wing of the building, the Buchanhaven unit, had space for 14 more but was boarded up in 2011.
Ms Morgan claims that since her "strong team" started leaving for other jobs amid the uncertainty, posts have been unfilled – resulting in the closure of beds.
She said: "The sad thing is they are closing beds due to the staff shortages as they aren't advertising these posts.
"I retired in December and my job hasn't even been advertised.
"The staff are asking if this was the plan to close all along – forcing the Ugie into a position of not enough staff to make their decision easier to close it.
"Peterhead locals want to be in Peterhead.
"The chance of closing is just sad, really sad."
She handed in a petition with thousands of signatures against the closure to Anne Stirling, chairwoman of integrated joint board which oversees the AHSCP, in April but says she has still not had a reply.
Last night North East MSP Peter Chapman called for better communication from the partnership.
"It is worrying to hear reports that staff morale is so low," he said. "However, it is not surprising given the uncertainty over future of this facility
"It is vital that there is good communication with those who work at the hospital.
"We cannot have a situation where people are simply left in limbo wondering what is going to happen.
"We have seen a gradual erosion of local health services in the north-east in recent years, and I hope that we are not about to lose another site."
Mark Simpson, north manager of the partnership, assured staff and the wider community that the review findings will be published on August 22 for the public and staff to see.
He said: "Ugie currently runs at one of the highest occupancy rates in Aberdeenshire and will continue to do so.
"Two of our beds were closed for a very short period of time due to a particular set of circumstances."