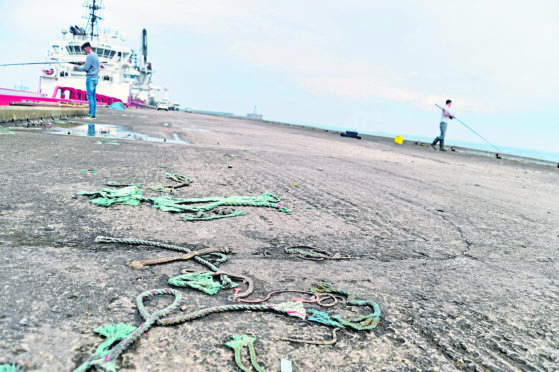 A keen angler has urged others to do their bit to clean up the North Sea.
Duncan Reid visits Peterhead to fish a few times every year, but on his most recent trip was "disgusted" by the litter at the breakwater.
Mr Reid claimed there were bits of plastic, cardboard, abandoned tackle packets, food wrappings, old bait and fishing line floating around.
Mr Reid, from Insch, said: "I am ashamed to be an angler after this visit to Peterhead.
"There was obviously fishermen behind this as it was all fishing-related stuff floating about.
"I fish a lot and I always thought us anglers were better than that.
"I picked up all of the rubbish around my fishing spot as I did not want passersby thinking it belonged to me."
The town has recently undergone a good clean but Mr Reid claims the breakwater is still a mess.
He said: "There's no reason for anyone to litter or leave their rubbish behind – it's the same with hill walkers nowadays too.
"Anyone visiting the area, such as for Scottish Week, will see that and it's not nice.
"Fishers, what happened to enjoying nature and looking after the environment?
"I can imagine the uproar if access to the breakwater was banned due to the mess,
"Come on, get a grip and clean up behind you."
Last night, Peterhead port's harbour master John Forman said the litter left behind was nothing to do with any commercial fishing operations.
He said: "It is up to them to clean it up if they dropping things.
"We have a waste management plan for refuse and we are abiding by it."