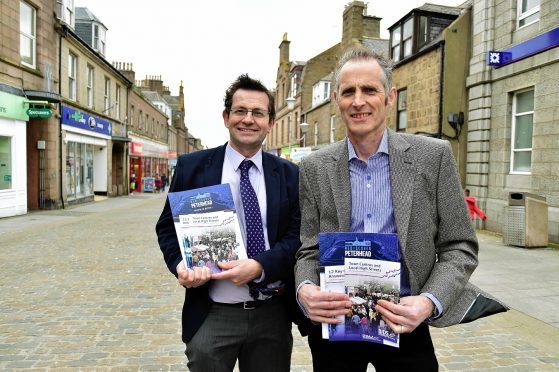 When plans were first unveiled to set up a business improvement district in Peterhead, the town quickly became divided.
Many businesses objected to the scheme, with some saying they would refuse to pay into it and others suggesting they should not have to pay for projects Aberdeenshire Council should be funding itself.
---
>> Keep up to date with the latest news with The P&J newsletter
---
But on September 29 last year, the idea was narrowly approved – with 54% of the 138 businesses that voted in favour of it.
The opposition has not died down since then, with some businesses refusing to pay and holding small protests while councillor Alan Buchan has remained a vocal critic. In particular, they say it is undemocratic and that they should not have to pay the levy towards improvements since they voted against the initiative.
The group's main aims are to reduce business costs and increase footfall by enacting initiatives such as free Wi-Fi, gull removal measures and CCTV.
Chairman John Pascoe admitted the year has included some "steep learning curves".
Swiftly after the vote, work to set up the associated company Rediscover Peterhead began.
Since that time the Bid group has established a team with two part-time employees, a manager and assistant manager.
Mr Pascoe said: "We were obviously pleased with the result last September as this was the realisation of 18 months of work and massive time investment to establish a Bid and the Bid steering Group.
"As chairman I can say from the outset it has been challenging and filled with ups and downs – much like any business or group.
"Our first actions were running a Spot the Elf competition and distributed Christmas trees and although the elf project was a success, the trees was less so.
"The learning curve is steep, I can tell you."
Despite criticism and opposition, Mr Pascoe believes the Bid and intervention of Rediscover Peterhead in the regeneration efforts will have an ultimate positive long-term impact for businesses and the community.
He said: "Rediscover as a BID is in its infancy – we would all like instant results from the investment and work that we have carried out but projects do take time to get up and running.
"The effects of those project also take time, however we think the changes will be positive to our towns outlook.
"We think a lot of the businesses are waiting to see what impact Rediscover Peterhead makes, which is quite right when something as significant as a Bid comes along.
"One of our greatest challenges is keeping our levy paying businesses informed of what we are doing and asking that they give us time to roll out the projects and give them time to take effect and make a difference.
"In the New Year we will really start to focus on what we had promised to deliver via our business plan, which was a great deal."
The ambitious business case included proposals to overhaul the town's shopping district with CCTV protection and free Wi-Fi for visitors, as well as rolling out a shop loyalty scheme and carrying out a deep clean of Drummers Corner and Marischal Street.
There are currently around 40 Bid groups across Scotland aiming to boost footfall and provide opportunities for local businesses.
Bid manager Iain Sutherland said: "We have had an exciting year working for Rediscover Peterhead.
"It's great to have a board of enthusiastic directors encouraging you on to deliver great projects that will change Peterhead for the better and restore a vibrant town centre."
Leader of Aberdeenshire Council, Jim Gifford, said: "On the day that Peterhead Harbour Board had their fantastic new fish market facilities officially opened by the Duke of Rothsay, the first ever Peterhead Fish Festival took place in the town.
"This was the first event organised under the Peterhead Business Improvement District (BID) process
"The BID was put in place a year ago when the majority of businesses in the town, who voted in the final ballot, agreed to form a BID.
"The Peterhead BID has the support of VisitScotland in working to improve tourism and improve promotion of the town.
"The BID also has a five-year plan to revitalise Peterhead town centre including improving CCTV and WiFi coverage and improving accessibility and car parking.
"The BID can access funding and grants that the Council cannot and will support and augment the work that the council continues to do.
"This first Fish Festival event was clearly very popular as parking near the town centre was at a premium.
"It clearly also had the support of a huge number of people and also had the support of the majority of the local politicians at all levels of government, across all parties and none.
"The administration of Aberdeenshire Council has been supportive of the BID process from the start of the process and look forward to them, and the whole town of Peterhead, building on this first success."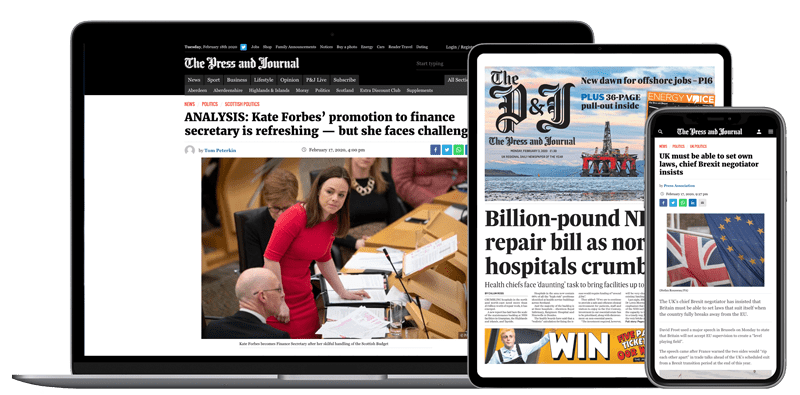 Help support quality local journalism … become a digital subscriber to The Press and Journal
For as little as £5.99 a month you can access all of our content, including Premium articles.
Subscribe