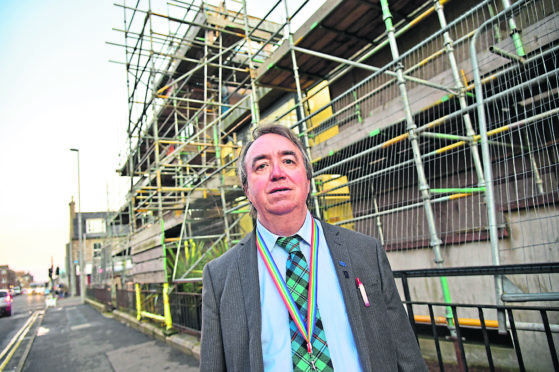 The unsightly and deeply unpopular scaffolding shrouding Peterhead Sheriff Court will remain deep into summer 2019, it has emerged.
The enveloping temporary structure was erected earlier this year after exterior cladding was found to have shifted and the building's roof developed leaks.
Officials decided it needed to be introduced as a "safety precaution" to enable the court to continue to operate as a place of justice.
Now, however, it has emerged the scaffolding will stay in place until June of next year, such is the complexity of the works – and the roof improvements in particular.
They ware expected to get underway before the end of the year but may take some time to complete.
The Scottish Courts and Tribunal service said the scaffolding must remain to preserve public safety but the revelation has sparked an angry reaction.
Peterhead South and Cruden councillor Stephen Calder said the scaffolding was an eyesore that presented a poor image of Peterhead to visitors and locals alike.
He said residents wanted to see the works completed as swiftly as possible and would be dismayed that they are to run on for so long.
Mr Calder said: "This is a matter I've had constant complaints about from residents for the past year.
"Clearly it's a matter the Justice Department of the Scottish Government should have dealt with when the problem was identified.
"To leave the scaffolding up for so long, and possibly until June 2019, is totally unacceptable.
---
>> Keep up to date with the latest news with The P&J newsletter
---
"It makes that part of the town centre look untidy and neglected at a time when we are making a concerted effort to improve the appearance of the town.
"We need to send a message to the Scottish Government that these repairs should be undertaken as soon as possible so that the scaffolding can at last be removed."
Fellow local councillor Stephen Smith believes safety has to be the "priority" but nonetheless said it was disappointing that scaffolding remains in place around the Queen Street court building.
He said: "Clearly, public safety has to be a priority but it's disappointing that this is taking what is a relatively new building.
"The Scottish Court Service will, I am sure, be pursuing this with the contractors responsible."
A Scottish Courts and Tribunals Service spokesman said:"The design solutions and building works are complex and include modification and replacement of the granite panels, redesign of the roof structure and renewal of waterproof finishes.
"Works are expected to start before the end of 2018.
"In order to ensure public safety and to allow court business to continue the scaffolding will remain in place until June 2019 when we anticipate all work being complete."
The scaffolding was erected in July 2017 to secure and install temporary replacement panelling to the building and to protect the public in case of any loose stonework.
So far the project has cost about £55,000.