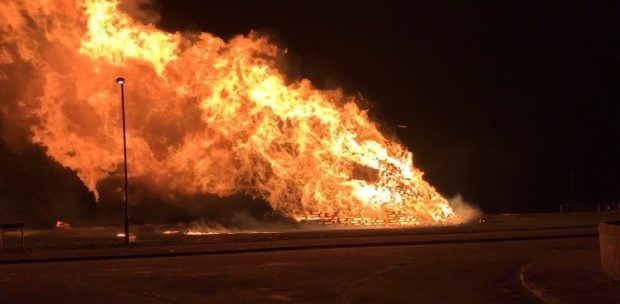 The skies across the Blue Toon had a distinctly orange glow last night as the giant Gadle Braes bonfire sent blames reaching for the heavens.
Hundreds of people braved plunging north-east temperatures to watch Peterhead FC manager Jim McInally light the collected pile of pallets.
The annual event is the biggest in the north-east and as well as the bonfire it featured a fireworks display and music from the local community radio station.
Additional entertainment was provided by Peterhead-based youth group Theatre Modo, who helped Mr McInally kindle an impressive fire.
It had taken two weeks to build the bonfire, with 4,000 pallets being used to make up the 40ft structure.
Once lit, it took a matter of minutes to turn the gigantic pile of wood into a burning, crackling blaze.
This was the first time the Gadle Braes event had been licenced so there were safety barriers in place and security was brought in to make sure nobody ventured too close.
Organiser Marco Alexander said it was important for him to keep the tradition alive.
He said: "It is great for the kids. They were doing this when I was nine and now I'm 34, so I wanted to make sure it still went ahead.
"We've been busy for the last few weeks collecting pallets from different businesses across town."
Peterhead North and Rattray councillor Dianne Beagrie said: "The Gadle Braes bonfire committee have worked really to make this a success for the community."
Displays in Banff, Rosehearty and St Combs were held at the weekend.