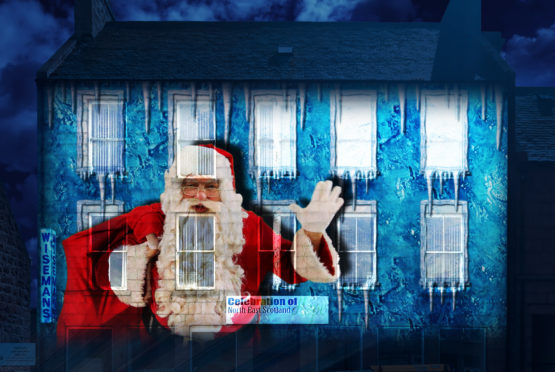 Here is the first look at the giant festive architectural animations that will light up the north-east's biggest town this Christmas.
Rediscover Peterhead, the organisation working to revive the town centre, has joined forces with a specialist firm on the project.
The images will be beamed onto the Wiseman's building on Broad Street and they will be launched this weekend.
Peterhead Harbour and a waving Santa Claus are just two of the animations that will brighten up the town centre in the run-up to December 25.
The Wiseman's site was chosen because of its relatively flat surface, which means the kaleidoscope of colours will be enhanced.
It is hoped the move will attract visitors from across Aberdeenshire and beyond to boost the balance sheets of local retailers.
The bright lights will shine every day durig December and will be unveiled this Saturday with a Christmas market.
Double Take Projections is the company behind the idea and they are no strangers to the north-east having already set up similar schemes in Aberdeen in recent years.
Their striking animations lit up iconic city structures such as St Nicolas Kirk and Marischal College.
His Majesty's Theatre was also transformed into a giant projection telling the Greek myth of Orpheus and Eurydice.
Rediscover Peterhead manager Iain Sutherland said he is thrilled to be working with the imaginative firm and hopes people will come into the port to see the spectacle for themselves once it is up and running.
Mr Sutherland added: "Double Take Projections is an innovative Scottish design consultancy specialising in creating immersive visual experiences using a technique called projection mapping and they are creating unique spectacles.
"Projection Mapping is a new and exciting technique which harnesses the recent advances in high powered projection equipment to animate any surface providing audiences with abiding memories.
"This light show will be spectacular with nothing else like it in the north-east of Scotland.
"It will be well worth using the new A90 dual carriageway and nipping up to Peterhead for the afternoon in December."