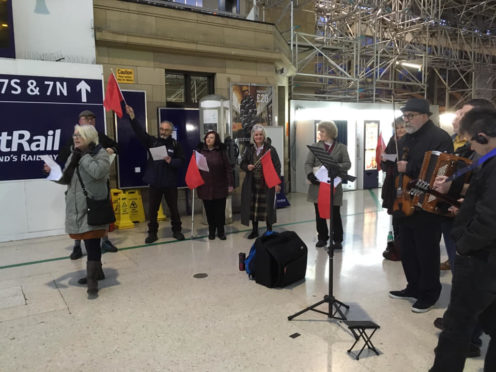 It was a time of revolution when John Maclean was released from Peterhead prison for sedition against the state 100 years ago.
His crime was speaking out against the industrial slaughter of the first world war trenches and supporting Irish republicans – for which he was sent hundreds of miles from his home to serve a sentence in the north-east.
He was jailed in April 1918, but the government released him after the November armistice where he made a triumphant return to Glasgow by train- stopping to meet supporters on the route.
And yesterday, trade unionists gathered at Aberdeen's train station to celebrate the century-anniversary of the historic occasion, with a special band coming together to play music in his honour.
The musical performance was followed by speeches from members of the Aberdeen Trade Union Council (ATUC).
Fiona Napier, ATUC secretary said: "John MacLean was a man of principle who never shirked from voicing his views in defence of the working classes of Scotland.
"If our comrades 100 years ago could come together to show him solidarity and support as he travelled back from penal servitude in Peterhead Prison, then it seems only right that in the 150th anniversary year of the ATUC we mark this anniversary."