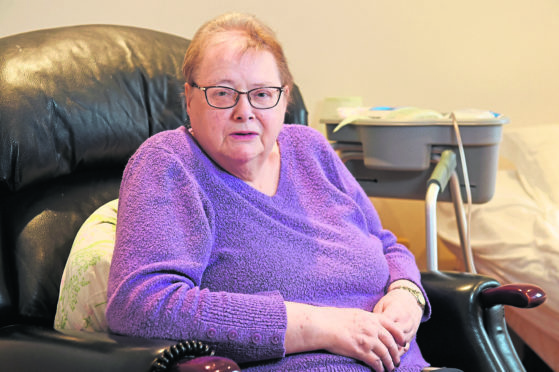 The family of a woman claimed to have been discharged from hospital without a care plan have criticised the lack of communication by NHS Grampian during an investigation.
After suffering from a ruptured bowel in May, Alice MacNair was discharged from Peterhead Hospital in July with no apparent care arrangements in place.
After being left immobile, Mrs MacNair said she was left to feel like a "burden" on her family who stepped in when neither NHS Grampian or the Aberdeenshire Health and Social Care Partnership arranged help her.
The Press and Journal revealed in October that an inquiry had been launched by the health board into why Mrs MacNair was claimed to have been abandoned with no care plan.
Her family are now speaking out in the hope of protecting other elderly people from having to face similar circumstances.
Inquiry launched after north-east pensioner claims health staff have abandoned her without plan for care
A relative, who did not wish to be named, said: "I've heard nothing from them about what's happening – it's absolutely shocking.
"The only communication we've had from the NHS was when they called to ask for an address for consent forms to be sent, so that our MSP Peter Chapman could find out about the case.
"Peter Chapman asked during First Minister's Questions on October 25 about the elderly getting discharged without a plan.
"It has also been raised with health secretary Jeane Freeman, but there has been no contact to us from anybody, total diddly squat.
"The visiting occupational therapist said Mrs MacNair definitely should have had a care plan and we knew that by the amount of help she needed.
"We've now found her suitable accommodation ourselves but we don't want to let it settle and let it happen to others who might not be lucky enough to have family that can help."
An NHS Grampian and Aberdeenshire Health and Social Care Partnership spokeswoman said: "We can only apologise to the MacNair family for the time it has taken us to respond to the concerns they have raised.
"This is a complex case and we needed to gather information from a number of different sources. We will be responding directly to the family soon.​"​
---
>> Keep up to date with the latest news with The P&J newsletter
---
On hearing the response, the family said: "Mrs MacNair's medial issues are complex and that's why it's a complex case.
"At the end of the day, we just worry about what would have happened to her for the last 12 weeks if she hadn't had the family she has.
"How many others is this happening to?"
An Scottish Government spokesman said: "Our sympathies go to Mrs McNair.
"No-one should be discharged from hospital without appropriate care being in place if they need it.
"We understand NHS Grampian is currently investigating this situation and we will carefully consider their findings.
North-east Conservative MSP Peter Chapman said: "I was very disappointed by how offhand the cabinet secretary was with the family's complaint.
"Mrs MacNair did not receive acceptable treatment following life-saving surgery.
"This family have now been left with massive care bills because she should have been in a hospital setting.
"Jeane Freeman has shown no urgency in dealing with this case as Mrs MacNair is now in a care home, this does not redress the situation"
"I have asked her to meet the family and I to get an apology and reassurance this won't happen again."
Aberdeen University aiding research in bowel cancer
Innovative research has resulted in academics creating 3D models of gut cells by using human tissue in a bid to find out more about bowel cancer.
The ground-breaking £9,757 study, led by senior clinical lecturer Dr Mairi McLean, took place at the Institute of Medical Sciences at Aberdeen University's Foresterhill campus.
The research was made possible due to a donation by cancer charity Friends of Anchor.
With the funding, Dr McLean and her team were able to create 3-D models of gut cells with human tissue by using a unique process.
Dr McLean said: "We investigated the consequence of a protein shift on bowel cell function and growth.
"To do this, we used a cutting-edge cell modelling technique and we have successfully established this here in Aberdeen from human tissue.
"This experimental method was not previously available in Aberdeen.
"In this case, we're growing organoids, 3D mini models of the cells that line the gut – from healthy gut tissue but also from cancer cells in the bowel.
"This organoid model is vital to work out how the cells respond to injury and stress from bacteria and inflammation in the gut and how this influences cancer development.
"This project is increasing our understanding of how colon cancer develops, and we hope this will lead to new ways to monitor disease and potentially lead to new treatments.
"Establishing this exciting technology in Aberdeen creates opportunity for this technique to be applied to different types of cancer."
Friends of Anchor has invested more than £552,000 invested into 59 pilot research projects since the funding stream was established by Professor Henry Watson in 2010.
All research funded by the charity takes place in the city and projects funded include research into prostate, breast, head and neck cancers, as well as haematological research into thrombosis.