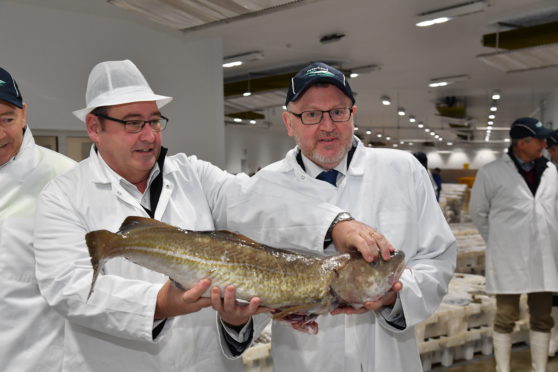 Celebrity fishing skipper and seafood chief Jimmy Buchan welcomed Secretary of State for Scotland David Mundell into Peterhead Fish Market yesterday.
In the midst of 9,000 boxes of fish being landed that day, the BBC's Trawlermen series star and chief executive of the Scottish Seafood Association discussed the Brexit negotiations.
He said: "With Brexit, the catching sector has been focused all the way through the discussions that they want control of the waters, but behind that successful catching sector you need a successful processing sector.
"We need to make sure a deal offers the chance for that.
"The deal on the table right now actually has the potential for that."
He also hailed the decision by Mr Mundell to visit the state of the art market.
He said: "I think it's good to see the Secretary of State here, especially to launch £37million funding for the industry.
"That demonstrates commitment.
"I'm hoping for the processors that there's a chance for them to grow business using the funds, but we've just to make sure we can access the money.
"It's also important that it's spent in a meaningful manner.
"The world of robotics is upon us, but to stand as an industry we need to be able to compete going forward.
"We've got the best product here, but we need assistance by innovation and we need the programmes to be able to up-skill and train people.
"There's a lot of work to be done but it's great to see the government commit to this industry."