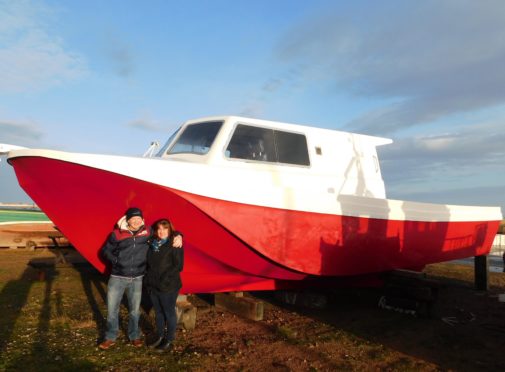 Police are investigating an alleged act of wilful fireraising on a boat in Boddam.
Gordon and Susan Morrison were walking their dogs by the harbour on Christmas Eve when they discovered someone had tried to set fire to their new boat.
The vessel, named Rachel May after the couple's late mothers, was attacked by vandals who attempted to start a fire with a pile of moulding and another in the sink.
---
>> Keep up to date with the latest news with The P&J newsletter
---
The boat, which was purchased to replace the vessel currently used by Mr Morrison, has not yet got an engine, but will eventually be used for sea angler trips.
When they went on board, the pair found a singed t-shirt, empty drinks cans, cigarette butts, burned holes in the sink and scorch marks from the attempted blazes.
Police investigating the incident have taken the items for DNA testing.
Although damage to the boat, which was purchased by the couple in December last year, is minimal and is repairable, Mrs Morrison said she was concerned about the incident could have been so much worse.
She said: "It has been quite distressing.
"The police are taking it seriously and are treating it as a wilful fireraising.
"I posted pictures on Facebook to raise awareness and see if anyone recognised the t-shirt but also because people's livelihoods were at risk.
"People don't go to the harbour to hang out in the winter.
"If our boat had caught alight, it wouldn't just be us affected, because all of the boats are at the pier as Boddam Harbour isn't safe during winter, and those would have gone too.
"It was a real shock and it was a brand new boat – it doesn't even have an engine just now so it's worth about £60,000 but once it's finished it will be about £300,000.
"It's not a toy. This is serious stuff.
"Thankfully, the damage is minimal because what they piled up and tried to set alight seems to be fire retardant, but the fire set in the sink in the bathroom cubicle has burned through it.
"It could've been a lot worse."
The couple, who live in Boddam, were contacted by the Harbour Committee and told there are plans for CCTV to be installed in the near future.
Mrs Morrison said: "It will bring peace of mind to all of the boat owners.
"People invest so much time and money into their boats."