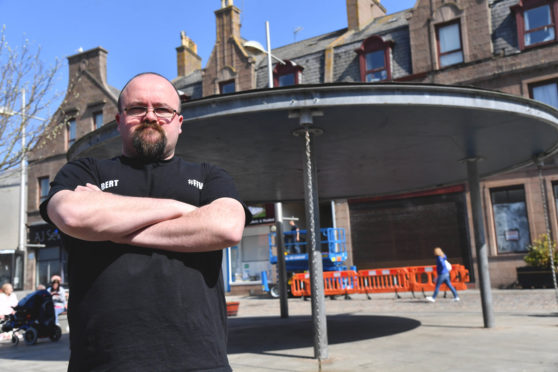 Council chiefs have been told they will "waste" thousands of pounds if they continue with the redevelopment of Peterhead's Drummers Corner.
About £220,000 money will be spent rejuvenating the bandstand and surrounding area but a new public survey reveals 97% of locals believe the sum could be better spent.
Gilbert Burnett, who owns Buchan Aquatics on Broad Street, is personally opposed to Aberdeenshire Council's plan to upgrade the current 'drum' in the town centre to make it into a functioning bandstand.
He has backed other aspects of the project, such as improved lighting and electrics for the area, but feels the chosen design for the stage is a "waste of money".
In a bid to discover if others felt the same about the bandstand, which is part of the town's regeneration project, Mr Burnett started a poll on his public Facebook profile last week to gauge other people's opinion.
Now, with more than 1,140 responses secured, Mr Burnett has revealed that 97% of the respondents were against the idea of "£220k being spent on a so-called band stand".
Mr Gilbert said: "It's been a seven-day poll and 1,141 people have so far taken part.
---
>> Keep up to date with the latest news with The P&J newsletter
---
"About 36 of those have said yes to supporting the extension of the bandstand.
"It's clear from those figures that no-one wants an extension on that eyesore.
"People are the heart of the town, but most of this isn't for the people of Peterhead.
"I think it's a waste of money.
"One man commenting on the Facebook post suggested about £150,000 will be for the performance area, but the bandstand that's there now is ghastly. Making it bigger won't help."
Mr Burnett, who recently joined Rediscover Peterhead, is convinced the money could be better spent elsewhere.
He said: "They should invest in purchasing an actual bandstand that can be put up and taken down, meaning events of all sizes and places in the town could benefit.
"I know better lighting and electrics are part of the project and I'm all for that. It's the spending on an eyesore that's not going to bring people in that I have a problem with.
"To be honest, I'm sick of the council not putting the money where it should be."
Aberdeenshire Council unveiled the plans for the area, including the new bandstand, last September.
From Christine Webster, Regeneration and Town Centre Manager, said: "The re-design for Drummers Corner came about through 'Choose Peterhead', which was run by Theatre Modo in 2016.
"Over 770 people visited Modo HQ to have their say on what they felt should be at the heart of any new development or re-design of the area.
"From there, the team took the suggestions from the community forward and developed the design which is now out for tender."