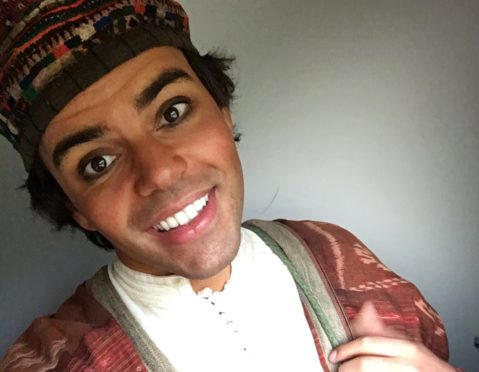 A former Peterhead Academy pupil has been rubbing shoulders with a Hollywood megastar on the set of his latest blockbuster.
North-east actor Christopher Cameron landed a part as an extra in Disney's new version of Aladdin, which is directed by Guy Ritchie.
The film is a remake of the original 1992 cartoon hit which starred the late Robin Williams as the hilarious Genie who tries to help Aladdin.
For the 2019 version, Will Smith takes on the role and it will be released in cinemas in the UK on May 24.
Mr Cameron was involved in filming it in a studio in London two years ago and said it was a "surreal experience" working alongside and speaking to Smith during breaks.
The 28-year-old said he was a fan of Smith's 1990s sitcom The Fresh Prince of Bel-Air, and could not believe he was working on same movie set as the star.
He said: "I filmed it back in 2017 and it was such a surreal experience. I've never done anything like it before.
"Will Smith and all the cast were chatting away to us in between takes. I kept thinking I remember growing up watching The Fresh Prince of Bel-Air and now I was standing talking to him.
"I'm an extra so there's no guarantee I will be seen but I've already spotted myself in the advert. Blink and you'll miss me."
Mr Cameron grew up in Peterhead and studied management at Robert Gordon University before moving to London in 2012 to study theatre.
His hard work paid off and he was part of the cast Bat Out of Hell: The Musical, which is based on the hit albums of American rock star Meat Loaf.
Mr Cameron made his West End debut in the production at the Dominion Theatre last year.