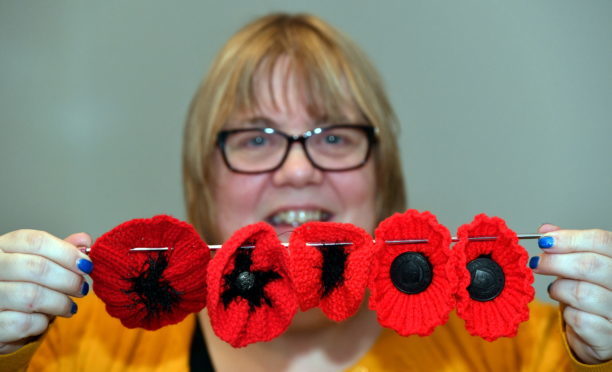 A Peterhead woman has been busy with her own knitted commemoration of the 75th anniversary of the D-Day landings.
Nancy Duncan was responsible for leading efforts to mark the centenary of the end of the First World War, with knitters from the north-east and beyond creating thousands of poppies.
The flowers were then displayed on the railings outside the town's Baptist Church last November.
Since then, Miss Duncan has been busy with a woollen tribute to the men who landed on the beaches of northern France in June 1944.
Her D-Day bride was displayed at the Knit Hoose on Queen Street this week.
The mannequin has been dressed in a garment adorned with the extra red flowers that were originally knitted as part of the First World War tribute.
Miss Duncan, who earned the nickname Mrs Poppy for her exploits, said her D-Day tribute has proved popular.
She has always been fascinated by stories of the war after hearing her grandparents and great-grandparents speak about it.
Miss Duncan said: "I received a lot of encouragement when I first mentioned I would do this.
"I just have a life-long passion for history because I grew up listening to stories about the war.
"My mother was a poppy seller and I feel we should never forget."
The D-Day bride will be on display at the Yarn Fest event at the Doubletree by Hilton Treetops Hotel in Aberdeen this weekend.
It will then return to Peterhead and retake its place in the shop window until November.