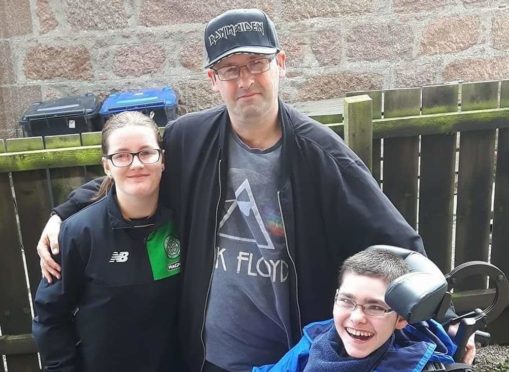 The family of a Peterhead teenager who suffered from cerebral palsy have said he will be remembered for his smile.
Well-loved and always cheerful, Connor Irvine died in hospital earlier this week following a short battle with sepsis.
The 18-year-old, who went to Willowbank and attended the Anna Ritchie School for many years, was known for his grin, love of bubbles and his passion for movies – particularly Toy Story.
His parents, Mark and Joy, have paid tribute to the "little chap" who took great delight in the small things.
Despite having cerebral palsy, scoliosis, brain damage and other learning difficulties which left him unable to walk or talk, Connor was known for his genuine reactions, which were usually ones of utter glee.
Mark, 51, and Joy, 42, dedicated their lives to being his full-time carers for the last few years and feel his death has left them with too much time.
Mrs Irvine said: "Our whole world revolved around him. Most of our time was spent on him.
"Now we've got lots of free time but it's not time we want.
"Connor was always smiling and laughing – he would take delight in all of the small things.
"But he was a cheeky guy who liked things a particular way. We would carry a portable DVD player with us for the times he was unhappy.
"We were once at the circus, with ringside seats, and everyone was really excited, but Connor wasn't impressed so there he was, sat watching Toy Story. Only he could have done that."
One of Connor's favourite things was watching bubbles and his 16-year-old sister Abby used to regularly blow them for him.
Mrs Irvine said was delighted Abby had just been made prefect at Peterhead Academy.
She said: "I love my kids. They're my everything.
"Abby went back to school the day after. It's been very hard for her but we want to keep things as normal as possible.
"She's the thing that's kept me going."
The family plan to blow bubbles at Connor's funeral to mark those special moments.
Mr Irvine said the kindness from people has been amazing.
He said: "Everyone says the thing they will remember about him most is his big smile.
"People always say 'their smile lit up the whole place' but his really did light a whole room.
"It's amazing. Although he went through so much he smiled through everything and everyone noticed.
"You don't realise how much someone has touched everyone's lives until something like this."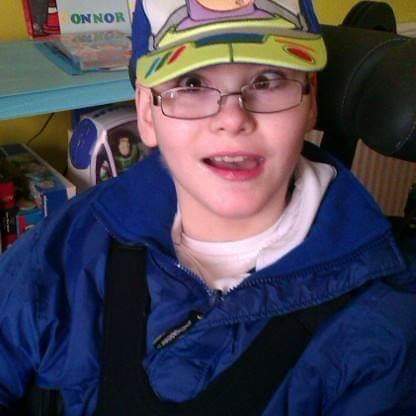 Connor was born on New Years Day in 2001, making his birthday 01.01.01, and spent his first few weeks of life in intensive care.
But his death was a sudden shock to the family and they are still coming to terms with their loss.
Mrs Irvine said: "When I realised he was gone I just collapsed and started howling like a banshee.
"We said goodbye to him. Mark gave him a fist bump which was always their thingand something that had taken him years to master.
"I sang his favourite Winnie the Pooh song – he would always be holding a little Winnie the Pooh in a Tigger costume.
"We had two as the first one he had got so worn that I found him another. He has one with him and we've kept the original.
"He was 18 but mentally he was around two-and-a-half and was so little – everyone, even the nurses, had tears down their faces when he died."
A celebration of Connor's life will be held in the Robert Mackie Almanythie Hall on Monday at 11am.